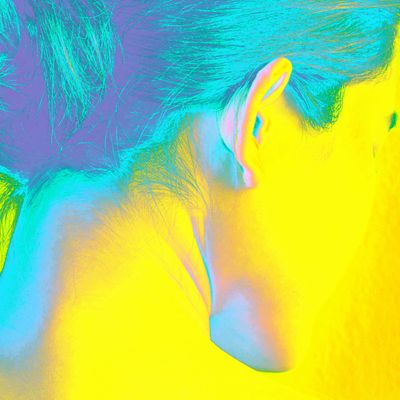 Photo-Illustration: by Stevie Remsberg; Photos: Getty
I'm a beauty editor with a shameful little secret, but it's time for me to come clean. This is hard, but here goes: I'm a Korean skin-care virgin.
In the beauty world, this is crazy talk. I've never experienced the contact high of gloopy snail mucin meeting skin. The seven skin method? Never tried it. And my relationship with sheet masks can only be described as on-off.
Why? Because my skin doesn't play nice with scent.
Sure, I know about the double-digit steps it allegedly takes to establish a K-beauty routine. I'm familiar with brands and their products with cult followings. But I don't practice any of it. At the time K-beauty was peaking in the beauty world, my skin was going through a radioactive phase — it was reactive, inflamed, and angry, rejecting all my attempts to coddle it. I finally pared back my routine to a simple one of cleansing, moisturizing, spot treatment, and sun protection. By trial and error, I worked out that artificial fragrances, essential oils, and drying alcohols were not my friends, so I shunned any product that contained even a hint of these ingredients. And back then, K-skin care seemed to be flush with them.
But recently, K-beauty brands have become more attuned to the needs of those with skin like me. Koreans have been reported to have a higher incidence of sensitive skin (56.8 percent), according to a study conducted in several countries. In comparison, 44.6 percent of Americans reported having sensitive skin. Complex factors are at play; some experts say the polluted atmosphere in Korean cities might be to blame, while others point to the ten-step Korean skincare routine itself as being the sensitizing factor.
Cosmetic formulator Mary Schook, who has been working with the Korean market for decades, says that historically Korean skin care, much like its French counterpart, contained a high amount of fragrance. It's only in recent years that we've seen things change. "As [the] beauty [industry] has been pushing for more natural products, scents — which are normally volatile compounds that can be very reactive to the skin — started to come from more natural sources. This is why you see a lot of brands use citrus scents. But those scents can cause photo sensitivity or expire faster in a product," says Schook.
Non-fragranced skin care hasn't been popular in Korea for a long time, agrees Charlotte Cho, founder of Soko Glam, a leading online marketplace for K-beauty. "Now, consumer behaviors have changed even in Korea. A lot of K-brands are noticing that consumers globally are looking for products with more natural fragrances."
To make skin care as tolerable as possible to a majority of customers, many brands are now nixing artificial fragrance and using only a small quantity of essential oils that are needed to neutralize the smell of other ingredients. "We went from heavily scented products in France and Asia to lightly scented because of the natural movement and sensitive skin," says Schook.
Cho says she prefers unscented products herself. "Even while curating for Soko Glam, I prefer to have little to no fragrance because I layer a lot of products: I double cleanse, use a toner, essence, serum, eye cream and moisturizer. I'd just rather have fewer fragrances so it's not a mixture of all these fragrances," she says.
Cho and Schook also report that the new wave of trendy ingredients in Korean skin care are ones that calm skin redness and irritation. Ingredients like cica and madecassoside, compounds of the calming plant extract Centella asiatica, have been popping up thanks to brands such as Neogen, and they form the backbone of Dr. Jart+'s culty Cicapair line. Exfoliating alpha hydroxy acids (AHAs) and beta hydroxy acids (BHAs) are being swapped out for polyhydroxy acids or PHAs, which have a much gentler resurfacing action than their harsher cousins.
And in a triumph for the sensitive snowflakes among us, last year Korean beauty brand Klairs launched their Supple Preparation Unscented Facial Toner, a completely fragrance-free version of their super popular Original Klairs Supple Preparation Facial Toner, in response to overwhelming consumer demand. All these developments, says Cho, "are a direct response to a lot of Korean customers complaining about their sensitized skin."
Now that a previously unexplored universe of skin care has literally opened up for me, I'm boldly going where every woman, man, and grandma has gone before. Here's my sensitive-skin K-beauty wish list, an arsenal of effective products that can be deployed to boost skin health and tackle any pesky issues that might crop up, like clogged pores or irritation. The best part: almost all are fragrance-free, except where flagged.
The K-Beauty Shopping List for Sensitive Skin
This unscented toner is vegan and completely free of essential oils. It's formulated to have a lighter feel and absorb faster. It's also full of amino acids and soothing licorice root. Reviewers praise it for making their skin look more glowy, clear, and less irritated.
This powerful Vitamin C serum has a hefty 20.5 percent potency of its star ingredient. Beauty nerds love vitamin C for the way it jumpstarts the collagen renewal process, zaps dullness and pigmented spots, and provides antioxidant action.
The delicate eye area needs a burst of hydration and skin-repairing ingredients like panthenol and ceramides, without the irritation of fragrances. This eye cream delivers on all counts.
Packed full of active compounds from the Centella asiatica plant, plus ceramides, these pads can help calm and repair skin. Trigger warning: If citrus oils annoy your skin, tread cautiously, as a small amount of bergamot oil is in there.
Got delicate skin but still need a blackhead elimination routine? This BHA-powered toner has come to the rescue of many congested-yet-dainty skin owners.
 If you buy something through our links, New York may earn an affiliate commission.