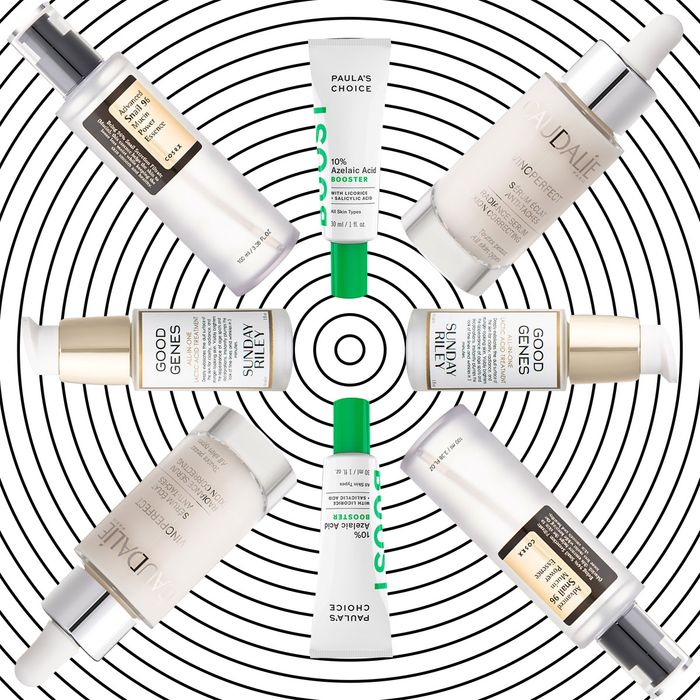 Photo: Courtesy of the retailers.
Dermstore, the popular online beauty retailer founded by a dermatologist, is celebrating its 20th anniversary this year and throwing us a solid nine-day sale. From August 17 (starting at midnight) to August 25, up to 400 brands spanning Dermstore's professional-strength skincare formulas, luxury hair care products, and hard-to-find holy grails, will be up to 25 percent off. On-sale brands include favorites such as Briogeo, Cosrx, Kevyn Aucoin, Dr. Dennis Gross, and more.
All you have to do is enter code CELEBRATE at checkout and do some strategizing beforehand. From Sunday Riley to a very fancy shampoo with a cult online following, here are nine picks make space for in your cart before things get too crowded.
I feel like it is my duty to point out every single time that Sunday Riley is on sale. So there you go! This cult-favorite serum, which gently exfoliates your skin to make it look brighter and better, is on sale once again. You're welcome. —Kathleen Hou, beauty director
This small but mighty tube contains a very helpful mix of skin-clearing salicylic acid and skin-clarifying azelaic acid, a combo that quickly comes to the rescue when inflamed faces need it most. Spread it directly onto areas of concern or mix it into your favorite moisturizers or serums to make them better equipped for combat. —Erica Smith, beauty writer
I love how this sunscreen doesn't really feel like a standard, goopy one. With the added tint, it feels —and looks —more like a liquid foundation. That said, its one shade is way too dark for my paleness, but I don't care. I love this stuff so much, I lighten its pigment by cutting it with my Ilia True Skin Serum Foundation. The result is a slight "self-tanned" look, but, unlike self tanner, it washes off at the end of the day —Jane Larkworthy
Korean beauty fans are known for their devotion to this snail mucin essence (this blogger has gone through four bottles). You can try it and witness its acne scar healing powers for yourself. —Kathleen Hou
Photo: Michel BONNIER/Home
Pat McGrath's favorite gentle, nonsticky makeup remover is now on sale and cheaper (and more convenient) than if you went to Paris and lugged it home. —Kathleen Hou
There's no time like a sale to finally pick up a fancy French cult-favorite serum. This one is so beloved because it not only brightens while gradually fading discoloration (including annoying acne scars), it also leaves skin feeling silky soft with its luxurious, lightweight, organic grape-water infused formula. I'd gladly bathe in it. —Erica Smith
These bootie-shaped masks are kind of like the plastic bags filled with liquid paraffin that your feet get sealed up in during fancy pedicures. But instead of hot, melted wax, these contain a goopy concoction of coconut oil, shea butter, aloe, and tea tree oil that pamper foot skin in a soothing soak. Twenty minutes later, after removing the booties, you will marvel at your baby-soft feet, and find yourself promising to treat them to this on a regular basis. —Jane Larkworthy
This primer is like a leave-in conditioner for your lashes. It detangles, smooths, and plumps, so by the time your usual mascara goes on, your lashes stretch into extension territory. Thanks to the nourishing formula, I've also noticed fewer and fewer lashes shedding into my cotton rounds and being rinsed down the sink, which helps me sleep better at night. —Erica Smith
Once upon a time, an actress who played a lawyer on TV, after using this product, said, "I swear [my eyelashes] are as long as they could ever be." Now she's a duchess. You have a 50 percent chance of one of these magical things happening to you, which are pretty good odds. —Kathleen Hou
Photo: Kevin Hees
If you want a mascara which will never, ever smudge (thanks to a tube formula) or tear off any eyelashes, here's how to spend your money. This is a bit like Glossier's Lashslick (I suspect that was its unofficial muse), but with about 30 percent more oomph. It makes your lashes look longer, more defined, full, but still very natural. Plus, it washes off really easily with just water. —Kathleen Hou
I am an oaf when it comes to applying self tanner. But despite my clumsiness, this sleeping mask give me a super-even, natural looking tan that does not look like the skin tone of anyone who has ever appeared on the Bachelor. If you are a pale person who needs the gentle tan of a nice weekend in Nantucket, try this. —Kathleen Hou
If you're going to pay $60 for a shampoo, it better be amazing. And this secret shampoo, which a lot of beauty editors haven't even tried, is incredible (there is a very passionate but niche fan base online). I once had the stomach flu but desperately needed to wash my hair for my own sanity. I used this and although the rest of me looked like microwaved leftovers, my hair looked incredible: It was bouncy and soft, and my layers fell softly like I was in a luxury shampoo commercial. And that was even when I slept on my hair wet. Since it's so expensive, I use it sparingly. It's almost never on sale, so act fast. —Kathleen Hou
If you've ever wanted to try an LED mask which also doubles as an Ironman Halloween costume, it's here. I have not yet tried this very extra mask, but I am intrigued. It allegedly contains a powerful dose of red and blue LED lights which stimulate collagen and kill bacterial acne. —Kathleen Hou
It has been updated throughout. If you buy something through our links, New York may earn an affiliate commission.