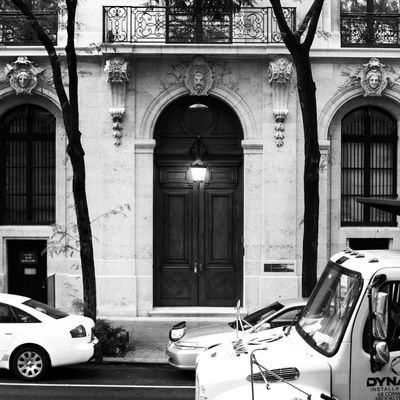 Photo: Kevin Hagen/Getty Images
It comes as no surprise that the New York City home of accused sex trafficker Jeffery Epstein contains many horrors. The townhouse — one of the largest private homes in Manhattan — is on the Upper East Side (71st between Madison and Fifth), just off Central Park; it's where Epstein is accused of abusing underage girls, and investigators seized child pornography from it during a search on July 6.
Fittingly, its design hallmarks are those of nightmares: endless rooms, body parts as decoration, and a haunting self-portrait. These are also the trappings of the immense wealth that over the past few decades has made Epstein largely impervious to the consequences of his alleged crimes.
Here are some of the strangest and most disturbing details that have emerged over the years.
Rooms, Rooms, Rooms
Its blueprint contains five bathrooms and an incalculable number of bedrooms. In all, there are a total of 40 rooms distributed across seven floors.
Heated Sidewalk
The sidewalk outside the apartment is heated, which, after decades living in New York City, I did not even know was possible, although its sudden reality is very easy for me to accept.
The stated purpose of heated sidewalks is to melt snow more easily. It's difficult to imagine the owner of such a sidewalk shoveling it themselves or caring what becomes of those who do.
Dramatic Proportions
Epstein appeared to be a fan of making things big that don't have to be big. For instance, his reception room spans two stories; what I'm picturing is the house from the final scene in Scarface.
Then there's the extremely long desk. A person who visited the home last year told the Times they found Epstein working at a table that could fit 20 people, surrounded by computer monitors.
The front door, additionally, is an unnecessary 15 feet high.
The Wall of Fame
In what appears to be Epstein's study, the walls and table are covered with pictures of (in)famous people, including Woody Allen, Saudi Arabia's Crown Prince Mohammed bin Salman, and Bill Clinton.
Prison Guard Mural
The Times cites a lot of design nonsense in a recent piece about the townhouse, but the single piece of information that will go down in infamy is that Epstein possesses a mural depicting "a photorealistic prison scene that included barbed wire, corrections officers and a guard station, with Mr. Epstein portrayed in the middle." He reportedly commissioned it a few years ago, and now it's displayed somewhere on the second floor.
R. Couri Hay, a public-relations specialist who visited Epstein's home three months ago, told the Times he was invited for the express purpose of viewing the mural. "[Epstein] said, 'That's me, and I had this painted because there is always the possibility that could be me again,'" said Hay.
This is likely a reference to the 18-month jail sentence Epstein served (but only 13 months of it) as part of a 2008 plea deal that allowed him to avoid federal charges and, potentially, a lifetime of imprisonment. Though Epstein was accused of molesting dozens of underage girls at his Palm Beach property, he was allowed to plead guilty to a mere two counts of soliciting prostitution from a minor.
Doll Chandelier
The home featured a "life-size female doll hanging from a chandelier."
Eyeball Hallway
A 2003 Vanity Fair piece on the townhouse described the entrance hall as decorated with "row upon row of individually framed eyeballs … imported from England."
Human Chessboard
According to one visitor who spoke to the Times, there's a chessboard at the bottom of the staircase that is hair-raising in its commitment to creeping people the fuck out. Each of its customized figurines is modeled after one of his staffers and "dressed suggestively."
Dog Stuff
Vanity Fair's 2003 report also contains a detail about a stuffed black poodle in Epstein's study. It's situated atop a grand piano and Epstein has reportedly pointed it out to visitors, telling them "No decorator would ever tell you to do that … But I want people to think what it means to stuff a dog."
Additionally, Curbed reported in 2015 that a lawsuit filed in 2007 on behalf of model Maximilia Cordero — who accused Epstein of statutory rape and sexual assault — contained the following detail about Epstein's Manhattan abode:
"[The] defendant gave plaintiff a tour of his mansion, showing her a huge crystal staircase with a huge crystal ball by the railing, ceiling chandeliers, a lounge room with red chairs, a statute [sic] of a dog with a statute [sic] of dog feces next to it."
The lawsuit was later dismissed.
Giant Tiger
The poodle wasn't the only stuffed dead animal in Epstein's collection. A hedge fund trader who visited the townhouse told the New York Post he had snapped photos of a large taxidermied tiger located in Epstein's office. "I don't think the pictures really give proper dimensions," he said. "The desk had to be one of the biggest desks I've ever seen, and that tiger just dwarfed it." He also took a photo of the poodle, which, he said, "looked like he needed to be dusted."
Weird Artwork
Epstein was also a collector of eccentric art. Aside from his portrait of Bill Clinton in a dress, he owned a rare painting worth almost $6 million. The source who spoke to the Post noticed that there was a painting of a woman cupping her exposed left breast hanging behind Epstein's desk. The portrait, titled "Femme Fatale," was done by the Dutch-French artist Kees van Dongen in 1905, and sold at a Christie's auction to an unknown bidder in 2004.
This post has been updated.