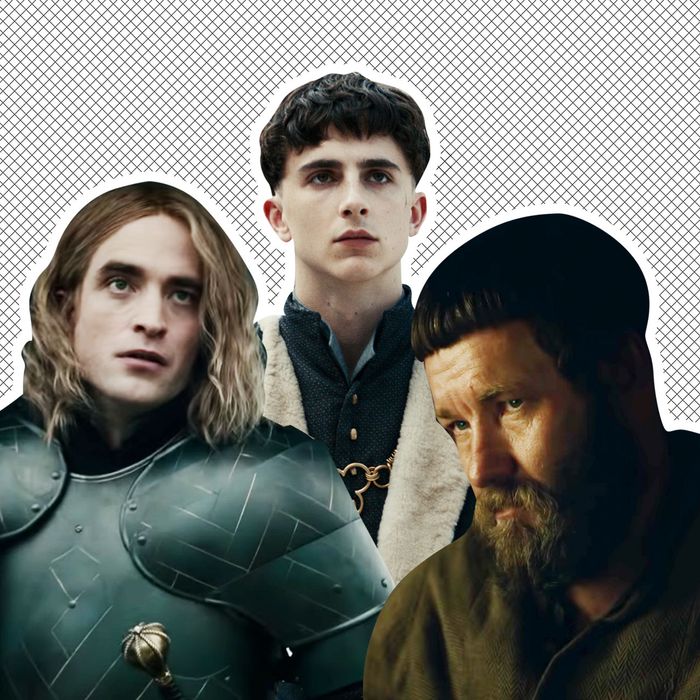 A new trailer for the upcoming Netflix film, The King, has been released, and it looks very serious. In it, Timothée Chalamet plays a young, wayward prince who is crowned as Henry V after his the death of his father, Henry IV. The clip shows the new king's ascension into royalty as he enlists his friend, John Falstaff (Joel Edgerton), to help him adjust to his new role.
Fellow teen heartthrob Robert Pattinson is on hand to play King Henry's enemy, the Dauphin of France, and Lily-Rose Depp plays his love interest, Catherine of Valois. While the film's trailer features a lot of brooding silence, tense stares, and sexy accents (Chalamet's British and Depp's French), it also has a lot of Instagram-worthy haircuts. Because where else should you find new hair inspo than from a dark, depressing period film?
Here's a rundown of the trendy haircuts you can look forward to in the movie, which comes out November 1.
Chalamet's Blogger Bowl Cut
Is there anything more bold than a bowl cut? Chalamet seems to have taken a page right out of wellness blogger Lee From America's handbook with this daring look. Only a person of royalty, like an English king or a smoothie influencer, has the gusto to pull off such a risky haircut.
Edgerton's Retro Baby Bangs
Call them micro bangs, Bettie Page bangs, or TERF bangs, nothing says "throwback" quite like some extremely short, vintage-inspired, blunt fringe. As a knight, Edgerton's character needs hair that makes a statement without getting into his eyes on the battlefield. Those stiff bangs won't dare move a muscle.
Pattinson's Hollywood-Starlet Lob
A wavy, long bob is the hallmark of young Hollywood hairstyles. And Pattinson's looks like it fits right inside the feed of Insta-famous hair salon, Nine Zero One, which is frequented by Julianne Hough and Emma Roberts. Carefree, sexy, and … blonde, that's the vibe I'm getting here.
Depp's Growing-Out-Your-Bangs Look
Just a li'l bonus tip: If you're growing out your bangs, why not just throw them back in an elaborate medieval headdress like Depp's? This is the natural next step to the giant headbands trend, and it might even help you resist a trim. Out of sight, out of mind.