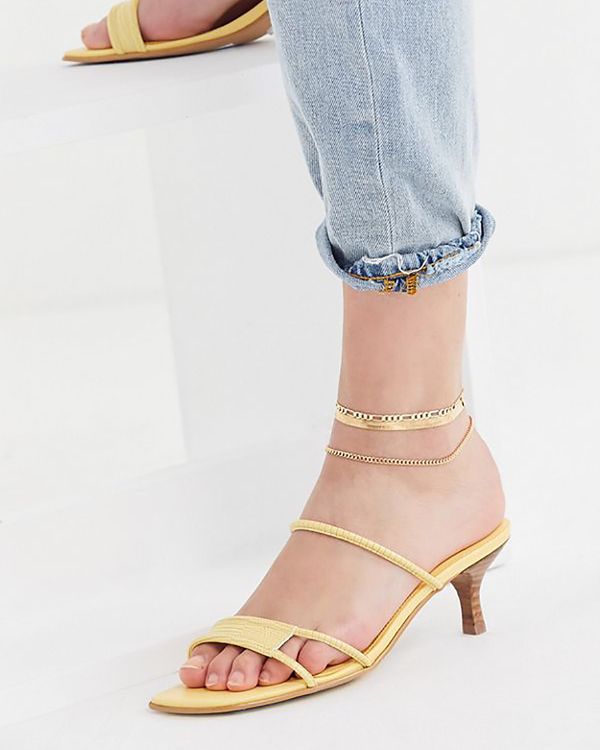 Photo: Courtesy of Urban Outfitters
On the list of things I never thought would make a comeback in 2019, right next to the thong sandal, is the anklet. And yet there it is, the same accessory I used to show off to my friends at summer camp, all over Instagram.
Unlike the thong, which trickled down from the runway, this one seems to have come straight from the influencer sphere. Worn clasped above a bright-colored heeled sandal or a leather flip-flop, the anklet is a favorite of the sort of cool city dweller whose feed is full of Ganni, Bottega Veneta, or By Far.
Here it is on Los Angeles-based French-girl influencer Laura Angelone:
And styled with glittery Margiela toe-cleft flats by Courtney Trop, a.k.a. @alwaysjudging:
And here's the popular puka-shell version on designer and Net-a-Porter alum Anina Heé:
Despite these examples, you definitely don't need to be a fashion girl to wear this trend. Nostalgic and unexpected (at least for now), anklets are easy to work into a casual wardrobe. They can breathe new life into the sneakers or sandals you've been wearing all summer. And although it's possible to find them made of 14-karat gold or festooned with diamonds, you can also get them for less than $20 on Amazon.
Scroll down for 12 of our favorites, all of which cost roughly the equivalent of (or less than!) a salad at Sweetgreen.
If You Love Personalized Jewelry
Give your initial necklace a break and try an initial anklet. This one, from Etsy, is plated with 14-karat gold, meaning that it will last longer than other inexpensive versions.
If You're Super Into the Shell-Jewelry Trend
Photo: Brown, Indya
Remember when every Hollister ad featured hot models in cowrie-shell necklaces? Well, they're worn a little differently now. Instead of logo tees and polo shirts, try wearing this with stylish minimalist pieces like leather flip-flops or a black silk satin skirt.
If You're On the Fence About the Shell-Jewelry Trend
Maybe you're unsure about this shell thing, but you'd like to experiment. Let us present an equally fun option: an anklet featuring bright, colorful beads and just one dangling cowrie shell, for a slight nod to the moment.
If You're Looking for Something Pretty
Photo: Brown, Indya
A nice little heart detail to complement a pair of utilitarian Birkenstocks or Tevas.
If You Want Something Adjustable
Photo: Brown, Indya
Ankles can be just as varied as fingers, so why don't more brands take this into consideration? This one includes an extender for up to one and a half additional inches in length.
If You Love to Layer
Layering doesn't only pertain to necklaces; a stack of anklets can also look really chic when styled correctly. Three separate chains are included in this pack, so you can wear them individually or all at the same time.
If You Love Pearls
If You Love Sparkle
Photo: Brown, Indya
Want to make a pair of neutral-colored shoes feel more interesting? Try an anklet with pretty rainbow crystals.
For Minimal-Jewelry Fans
If you prefer something a little quieter, this anklet brings the right amount of casual elegance. Wear it with sneakers to lend them a more polished touch.
If You Love Delicate Jewelry
Photo: Brown, Indya
These delicate hearts feel fresh and playful, not at all cheesy. Try this anklet with a pair of black, strappy, heeled sandals.
If You Love Silver Jewelry
Photo: Brown, Indya
An anklet for those who prefer their jewelry in cooler tones. Available in four different lengths for a more personalized fit, it can also be delivered to your doorstep in two days thanks to Prime shipping.
An Anklet That Feels Like Summer
From the neon pink thread to the shells, everything about this anklet screams warm weather.
If you buy something through our links, New York may earn an affiliate commission.