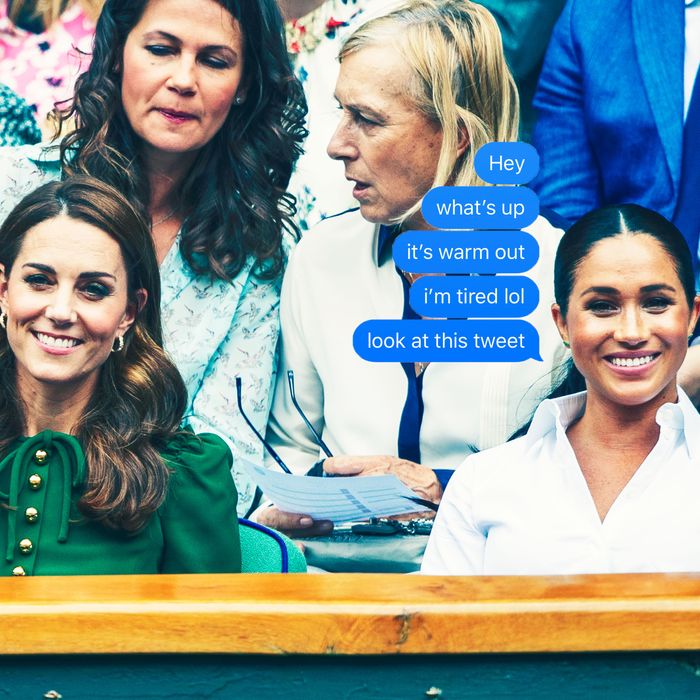 Photo-Illustration: Tim Clayton /Corbis via Getty Images
Here's a hypothetical question for you to escape into your mind and consider when you're on a bad date or are being yelled at by a neighbor who wants you to move your car even though you parked it in a way that is both legal and fine: Would you mute a group chat … that included Meghan Markle?
As I'm sure you would agree (and please don't let me know if you don't), group chats are a beautiful nuisance. They are usually muted by a friend or family member shortly after that friend or family member is added, not out of spite but out of a desire to not get 1,000 push notifications when someone sees a funny video of a dog "riding" a cat — and then also sometimes out of spite. But would you perhaps keep push notifications enabled if … the group chat included Meghan Markle?
I ask because, apparently, there is a royal family WhatsApp group wherein the royals plan get-togethers and, one has to imagine, annoy each other. During a recent appearance on Good Morning Britain, Mike Tindall, who is the husband of Zara Tindall, who is the granddaughter of the Queen, who is the Queen, spoke of the royal use of group messaging.
"It's just what you do to try and set up get-togethers," said Tindall, via People. "If you are going to go, 'Are you going to take the kids?' Quite a lot of people have family WhatsApp groups. I don't think it's a new revelation," he added, and it's true. Quite a lot of people do.
"Me, my brother, and then a few of Zara's side like her brother Pete and the cousins are on WhatsApp groups," Tindall told the Daily Mirror in 2018, as he is apparently — like maybe someone in your own group chat — obsessed with talking about the group chat. ("The cousins" here are, of course, the royals whose names you would recognize, e.g., Prince Harry, Prince William, Kate Middleton, Meghan Markle, Princess Beatrice, Princess Eugenie.)
"You might do it for a get-together and just stay on the group, and occasionally people will post," he continued. "You're scared to leave because you don't want to be seen to be rude."
But would you mute? Assuming Meghan Markle is a member of the chat, along with all of those 100 million other royals and royal-adjacents who you may or may not care about? All day texting things like "Ooh me goodness, ah me … muffins and hat!" "Oohh me … wee lad … shall we … sod off to the park?" And so on? Would you put up with a notification every time someone in the royal family said anything in the group chat just in case Meghan Markle popped in?
It's an interesting question to consider.
(I would still mute it, no offense.)