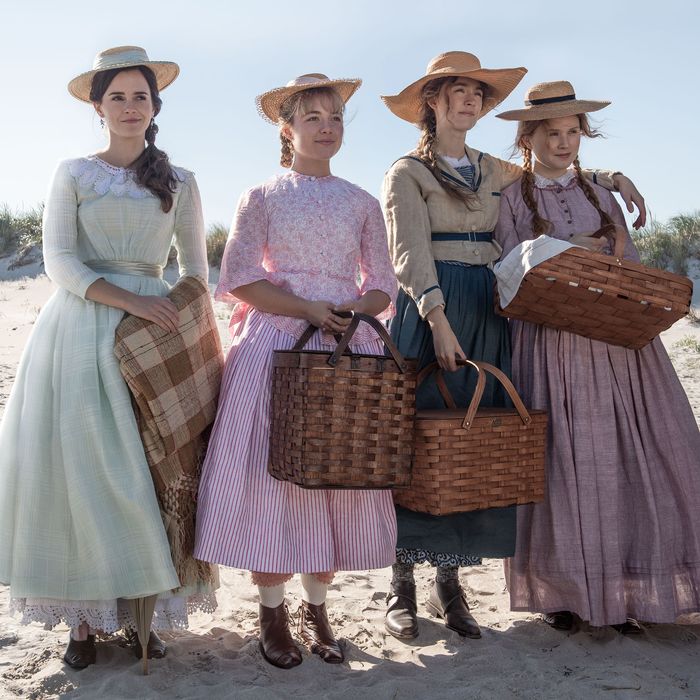 Yesterday was a big day for my dedicated Little Women group chat, and presumably for a bunch of other people as well: The trailer for this year's remake, directed by Greta Gerwig and starring Saoirse Ronan and Timothée Chalamet, was released.
I think it looks very good, though a number of people I once considered friends don't agree. The great Little Women divide between women in their late 20s and early 30s stems from one's feelings on the 1994 version, starring Winona Ryder, Susan Sarandon, Christian Bale, Kirsten Dunst, and Claire Danes. And truly, what a cast. The score? Incredible. The 1994 version is very good, except for the parts when Claire Danes cries, which are painful to watch for me, personally — though it's worse in Baz Luhrmann's Romeo + Juliet. It's just SO loud. We get it.
That said: Unlike almost every other story ever told, there can never be too many Little Women remakes!!! My Little Women collective formed after a road trip we made to Louisa May Alcott's house several years ago, and we've made it a point to get together to watch every iteration that comes out, no matter how bad. These include:
— Women, the brilliant, 2014 Little Women-meets-Girls play by my best friend, Chiara Atik (not that I'm biased)
— The 2017 miniseries starring a delightful Maya Hawke (Uma Thurman and Ethan Hawke's daughter) as Jo — recommended!
— The modern, Mormon-y, direct-to-DVD Little Women starring (?) Lea Thompson as Marmee (and yes, it's even weirder to see a mom called "Marmee" in 2018)
— A recent production of Little Women at Cherry Lane, which we abandoned at intermission.
It's always interesting to see what a director thinks they're adding to the canon. I am ready to pick up whatever Greta's putting down: big-budget-meets-mumblecore sensibility meets a fascination with hats. I'm into what I can see of Florence Pugh's Amy, especially — still stubborn, but not so childish — and I kind of like how soft and pathetic Timothée's Laurie seems. Saoirse's butch little outfits?? Come on! It's also pretty funny that Beth appears for 0.5 seconds because, well, you know. Whatever, I can't wait.