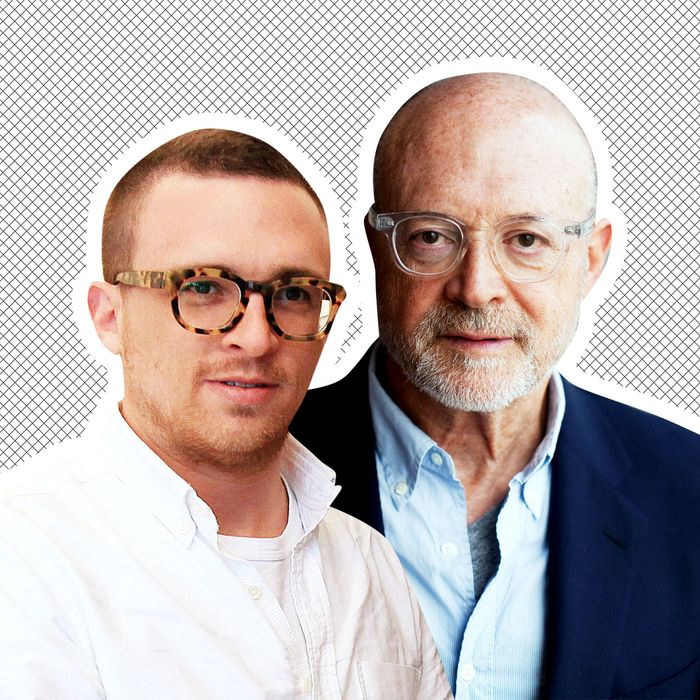 Photo: Redux Pictures, Getty Images
For a while, Alex Drexler thought he could do something else. "I went to law school," he says. "I kind of wanted to join the FBI." None of that happened. He dropped out of law school, and he never got around to sending his résumé over to the FBI.
Drexler, who is the son of the legendary retailer Mickey Drexler, went into fashion. "I found that production was in my blood," he says. "Clothing was just in my blood."
He's explaining all of this in the showroom of Alex Mill, the small fashion company he founded in 2012 and operated, for a time, in a low-key, under-the-radar way. He wasn't interested in having a million stores or in making a million different things. He just wanted to make a few simple items — a few T-shirts and button-downs, the occasional pair of shorts — very, very well. He sold them out of a small storefront on Elizabeth Street and then, eventually, to a number of high-end retailers like Mr. Porter. Drexler was happy with how things were going, and so were his small but loyal band of customers, who appreciated that the clothes were basic in design and solid in make. "It was really just me," Drexler says.
But now beside Drexler is Somsack Sikhounmuong, a designer who worked with the J. Crew and Madewell brands for 16 years and recently joined Drexler as a partner in a new Alex Mill at the suggestion of Drexler's father, Sikhounmuong's former boss. "Mickey and I had always kept in touch," he says. "He was like my agent, always calling and checking in to see what I was up to. He asked if I'd ever want to meet with Alex because Alex had this little brand with huge potential."
Surrounding the pair are mannequins wearing the next collection, which has that optimistic preppiness I remember from the J. Crew catalogues of my late-'80s middle-school-dom, when I would study those catalogues and imagine that adulthood meant summer clambakes, autumn tailgates, and weekends in Vermont populated by smiling, laughing, happy, preppy friends who were all in on the joke of wearing a red union suit every now and then. They are clothes that call to mind '90s-era Gap, all those swing-dancing commercials, and all that "so-and-so wore khakis" business.
There are poplin skirts and dresses for women and many more styles for men, including the cotton-canvas jacket both men are wearing this afternoon. There's a jumpsuit that sold out so quickly that factories have been begged to make more, and there are shirtdresses and cotton crewnecks and chinos and army-color pants. There's just so much cotton! The type of cotton that ages well because it is thick and soft to the touch, not tempered with Lycra or rayon. Earlier that week, I'd noticed that the big J. Crew in Soho, which last year had shrunk to half its size, had closed completely. So had the liquor-store project, a small J. Crew men's store in Tribeca that had been craftily tricked out by Andy Spade to look like a quirky college-town shop from some indeterminate earlier time, with quirky one-off items sharing space with mass-produced Shetland sweaters. J. Crew will close 48 more stores this year while it figures out what to do about its $1.7 billion in debt.
The Gap will close more stores by the end of 2020. But suddenly here was Alex Mill, with perfect modern iterations of classic American style, looking fresh and clean and ready to pick up the slack! It looks like what both those bigger brands looked like before they got complicated, either by too much fashion or by going downmarket and mass.
But the growth question is not one they seem to enjoy.
"There are a lot of clothes out there," Drexler says. "The goal was not to just make more clothes."
"We want the customer to not feel overwhelmed by things," says Sikhounmuong. "There's just so much out there right now; it's like sensory overload."
"I think people are a little turned off in general by things that are too big," Drexler adds. "We just want to make a collection we're happy with, and we want you and your husband to be happy with it, and we'll just take it from there."
Then the studio door opens and in comes Drexler senior with his round glasses and white shirt and perfect jeans. He's not officially working at the brand, but he's an adviser. Plus it's just in his nature to be an enthusiast when he likes something — and it seems as if he really likes Alex Mill.
Drexler Sr.'s reputation as "the Merchant Prince" was earned during his 20-plus years as the head of Gap, which was a $480 million-dollar business when he arrived and reached a valuation of $14 billion at its peak. He's a legendary workaholic who turned down a severance package when he left Gap because it included a noncompete.
"When I left J. Crew, it was July 2017 and it was, What do I do?" he says. "I mean, I was on the board of Warby Parker and an investor, but that's not full-time. And they asked me to become chairman of Outdoor Voices, so I did that and made an investment there, but I didn't have a full plate."
Drexler Jr. smiles the knowing smile of an omnivore's son. "I always thought Alex's business had potential," his father says. "Dealing with a father-son business, sometimes you're better off not … but I thought, Let's just dream a bit! And that's what we're doing now. We've added women's, we've expanded men's … Our vision was to have cool, nice clothes, not basic clothes — style that doesn't go out of style. And that's been for me what I've always liked to do." Then he throws his hands up. "But I'm just the mentor! The kibitzer!"
Drexler Jr. returns to his original point: He just wants to make really solid clothes. "When we have something we believe in, we want to continue to deliver it," he says. "Guys are creatures of habit."
His father looks delighted and gestures to his shirt — he's had it for eight years!
I can't help but ask him: You've made a career of spotting holes in the market and then filling them with what we didn't yet know we wanted. Is that what's happening here? Is Alex Mill the brand we didn't know we needed? Is Alex Mill about to blow up?
"You know, I've been doing this for so many years I never really want to think too much on day one or week two." Drexler Sr. pauses to smile. "But I will tell you how I see it growing anyway: Every day, we're going to add new customers; we're opening up a store. There's just not a lot of merchants with vision left. These guys are too young to say that, but I can say that! You have to have design and style and merchandising in your DNA, and that's why we did it. There's just not a lot out there."
His son smiles and sighs. This month, an Alex Mill pop-up store is opening on Greene Street. Retail may be dying, dying, dead, but, according to Drexler Sr., only if you don't actually know what's up.
"We saw something missing in American fashion: good-looking clothes, not fast fashion," he says. "Well-priced value-wise, clothes that you're not going to throw away but that you're always going to keep in your closet. We didn't see a lot of choice. We had a foot in the door with Alex's small, cultish following, and I thought it could be a fun opportunity to grow something. You can fill in the blanks."