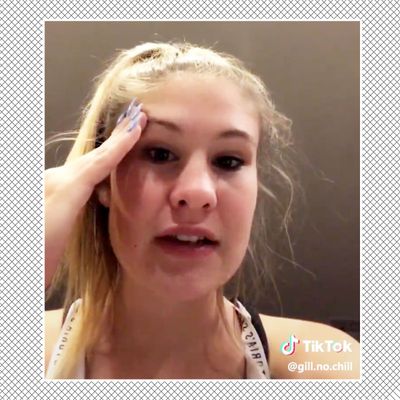 Photo: @gill.no.chill/TikTok/@kaludiasays/Twitter
Earlier this week, 16-year-old Gillian Sullivan took to the beloved Gen-Z social media platform TikTok to vent about school. TikTok is mostly home to irreverent, often incredibly bizarre videos, but this one was different from the lip-sync videos Sullivan usually posts — instead, she wanted to talk about her school district's failure to give its teachers adequate raises, and call on her peers to support her in a general strike in solidarity with staff.
"Hi, this video is for kids who are in Clark County School District," Sullivan opens, flashing a purple-acrylic-topped peace sign with her fingers, and zooming in on her face — the TikTok equivalent of italics. "So if you're not in CCSD, keep scrolling."
"So, our district is refusing to give teachers who spent the past three years earning enough credits out of their [zoom] own pockets, spending extra hours outside of school to earn credits to get a raise. And our district [zoom out; then in again] won't give it to them. Like, literally, they won't pay the teachers what the teachers earned."
When she first posted it, she figured it would get 100 likes, maybe, possibly six or seven comments. That's what some of her most popular TikToks have gotten so far. Instead, it went viral, racking up over 36,000 likes on TikTok, and 47,000 on Twitter.
The Foothill High School student uploaded the video last week, after her mom, who's been a teacher with Nevada's Clark County School District (CCSD) for over 20 years, told her daughter that the district had denied her a professional-development raise even after she went back to school to earn it. Sullivan's mother and her fellow CCSD teachers were considering staging a walkout on September 10. Sullivan did her own research on the matter and got upset over what she saw as the school district being "morally unjust." So she posted her TikTok the next day, venting her frustrations, and calling on her fellow students to strike on September 5, in solidarity with the teachers. (She chose a different day than the teacher's strike so the district wouldn't think students didn't show up to school because there were no teachers around.)
"It was just a moment of passion. I just said what was on my mind. I really didn't expect it to get as popular as it did." she told the Cut over the phone.
CCSD students are not the first to support their teachers striking. Students also joined picket lines during teacher strikes in West Virginia and Los Angeles earlier this year. But Sullivan and her peers are the first to organize on TikTok, a social media video app originally intended to upload short lip-sync videos, but that, like most social media apps, has evolved to include its own ecosystem. (Previous TikTok trends have included videos of people throwing a slice of cheese in someone's face to the sound of the Village People's "YMCA," creating elaborate paintings that say "The birds work for the bourgeoisie," and discovering Peppa Pig in unexpected places.)
Sullivan said her mom, who used to make fun of her for how much time she spent on TikTok, was happy with how much positive attention the video has gotten, especially since, as Sullivan says, "there's a lot of kids who go viral and get popular on TikTok for things that aren't positive."
"A couple of people have said I just want a ditch day, and a couple of others have said, 'Well, my district is worse,' or 'My district is just as bad,'" she went on. She added forcefully, "If I wanted a ditch day, I would just stay home. I wouldn't post anything on TikTok. And I'm not stopping anyone from any other school district from striking, too. Nothing's stopping them."
Shortly before Sullivan and I spoke on Wednesday night, the CCSD and the Clark County Education Association, the teachers' union, held a joint-press conference announcing that they had struck a deal to avoid the September 10 strike. The deal includes a 3 percent raise for employees in the bargaining unit, a 4 percent increase in CCSD's contribution to health insurance, and column advancement for employees like Sullivan's mom, who complete professional-development courses.
The students' strike is also canceled for now, Sullivan says. But, she noted the next day, if the district "creates issues" or tries to short-change teachers in the future, "I'm prepared to speak out and stand behind teachers again."
Sullivan's video and the response to it likely has less to do with TikTok itself and more with the generation that's using it. About a quarter of its users are under 24. And as Gen Z has repeatedly shown, it is not only technologically savvy; it is politically engaged.
"I think my generation realizes that we have a voice, and none of us are really afraid to use it," Sullivan said. "The best thing I can say about my generation is that I don't think there's a lot that we fear."