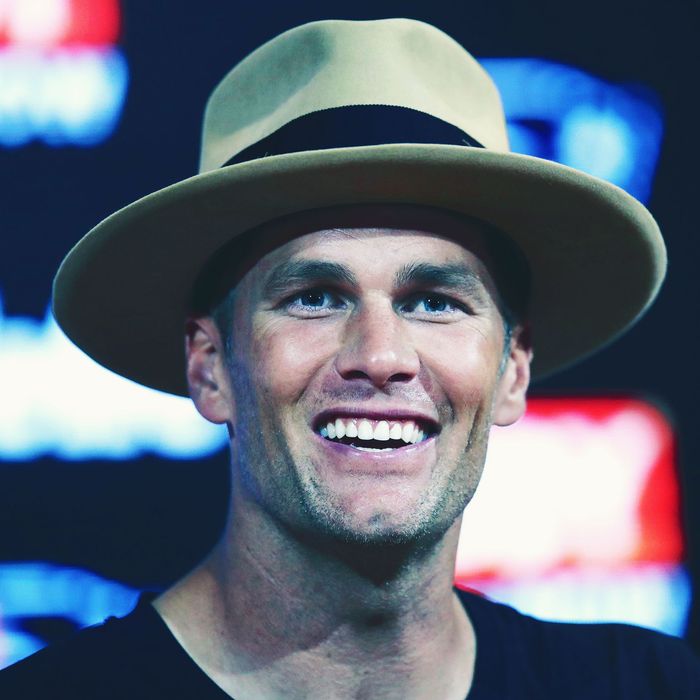 Photo: Charles Krupa/AP/Shutterstock
Believe it or not, it's football season again. Or — excuse me — preseason. On Thursday night, the New England Patriots played the Carolina Panthers in Massachusetts, which I would not know or care about had quarterback Tom Brady not arrived to the stadium wearing a gigantic, goofy hat.
It's not uncommon for professional athletes to show up to games in wild outfits. Remember when LeBron James got the entire Cleveland Cavaliers basketball team to wear teeny-tiny Thom Browne suits? Hats are also not uncommon. Panthers quarterback Cam Newton is known for his eccentric hat collection, which perhaps explains why Brady tried to one-up him on Thursday night. But something about Brady's look just isn't landing.
For starters, Brady is relatively small and lean compared to his peers, at six-foot-four and 225 pounds. He should probably eat more strawberries if he wants to fill out that hat. More than anything, though, he's also just not one to experiment with fashion. He's known for his slick suits and expensive cashmere turtlenecks and newsboy caps. It's funny to see him break out of his comfort zone, which is perhaps the point here.
What's really funny, though, is that Brady's gigantic hat is actually on trend. Thanks to French designer Simon Porte Jacquemus, who showed an oversize straw hat as part of his hit spring 2018 "La Bomba" collection, the style has become a lasting summer status symbol, with so many people posing with them on the beach, the manufacturer once ran out of straw.
Henceforth, we will refer to him as Tom "La Bomba" Brady.