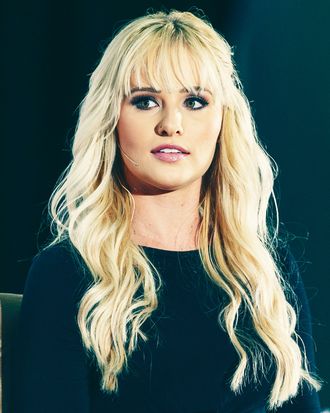 Tomi Lahren.
Photo: RICH POLK/Getty Images for Politicon
Tomi Lahren, the political commentator known for her viral "takedowns" of oppressive liberal politics, has taken on another cause in her fight for freedom: specifically, her right to start an athleisure line.
In her announcement, Lahren said, "Some have told me I'm too "controversial" to have an athleisure line, that conservatives should just stick to politics and Trump cheerleading. My response? Watch me. Introducing Freedom by Tomi Lahren by @alexoathletica full line available now." Suck it, libs.
The line, which is currently just for women, is mostly in shades of red, white, and blue. It was designed in partnership with Alexo Athleticwear, which specializes in clothes designed to hold "a self defense tool of choice." So, guns. Lahren has promoted the yoga pants before. Already, there are comments on the Freedom announcement asking if they will have a holster option — the pants Lahren designed currently don't have one. In addition to leggings that can't hold guns, she designed sweatshirts, tank tops, and bra tops that are described thusly: It's not a sports bra. It's not a crop top. It's a bra top. Well, good thing they got Tomi's voice right in the description copy.
What have we learned from this? We've learned that if you talk quickly enough, become a Fox News contributor, and are incendiary enough, you can achieve your dream of designing leggings. Congratulations on the bravery.