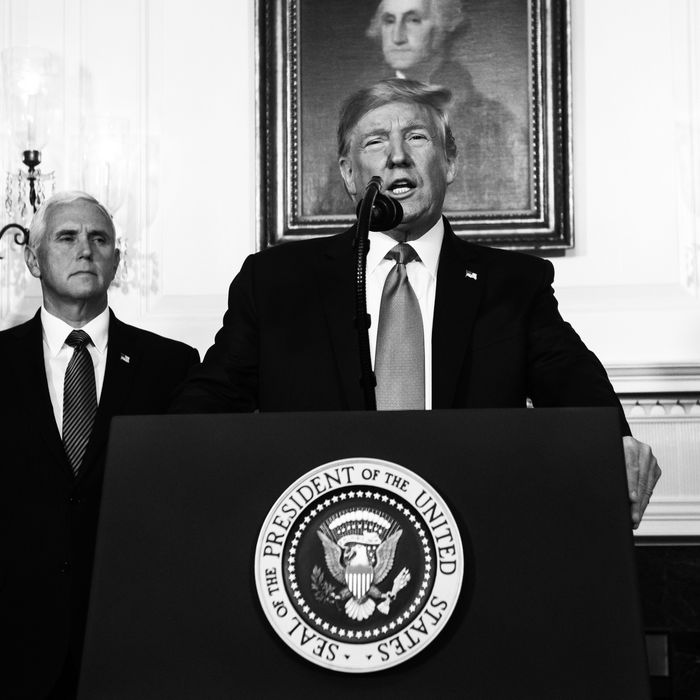 Mike Pence and Donald Trump.
Photo: SAUL LOEB/AFP/Getty Images
Geography is not the president's strong suit, and reigning in the violent white nationalist sentiment he himself continues to incite while passing substantive gun reform legislation is definitely not his strong suit.
On Sunday morning, following a brutal weekend — nine people were killed and 27 wounded in a Dayton, Ohio, shooting, and 22 people were killed and 24 injured in a shooting at an El Paso, Texas, Walmart — Trump made a speech from his big white home in which he clearly referred to Dayton as Toledo, a different city in Ohio.
"May God bless the memory of those who perished in Toledo. May God protect them," he said in a televised statement. "May God protect all of those from Texas to Ohio. May God bless the victims and their families. May God bless America."
Oh great, now Toledo gets the overwhelming boon that is the president's "thoughts and prayers." (And that's pretty much all we can expect from him in terms of a concrete solution to gun violence — in his remarks, Trump made it clear that he won't support restrictions on assault weapons like those used in this weekend's massacres.)
The incident comes after former vice-president Joe Biden made a comparable gaffe, misstating the locations of not one but two shooting massacres this weekend. The Democratic frontrunner went before an audience at a fundraiser just outside San Diego on Sunday and referenced "the tragic events in Houston today and also in Michigan the day before."
Americans are accustomed to expecting little in terms of gun-control reform; there have been 251 mass shootings in the U.S. this year, and still no substantial efforts to pass legislation to prevent even more tragedies from happening. But we can at least hope that our president — or anyone who wishes to be president — learn the basic facts about what's taking place.