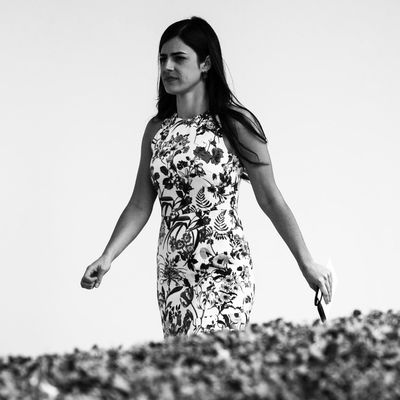 Madeleine Westerhout.
Photo: Al Drago/Bloomberg via Getty Images
Last night, the New York Times reported that Donald Trump's longtime personal assistant, Madeleine Westerhout, had been fired for "indiscreetly [sharing] details" about the president's family and White House operations at a recent off-the-record dinner with journalists. The report, which did not state the aforementioned "details," left readers scratching their heads, wondering what the 28-year-old could've possibly said to lead to her abrupt discharge. Well, now we know them — and they're, uhhh, not so great.
In a report published today in Politico, two people familiar with the mid-August dinner in Bedminster, New Jersey, divulged the subject of Westerhout's inappropriate remarks: Tiffany and Ivanka Trump. Westerhout apparently told a small group of reporters that Trump does not like to be photographed with Tiffany because he perceives her to be overweight, and that he couldn't "pick Tiffany out of the crowd." She also, according to the two individuals, smugly stated that she has a better relationship with Trump than both Ivanka and Tiffany do.
While the remark about Tiffany's weight does sound like something that might leave Trump's mouth, Westerhout's assertion about his relationship to his daughters seems a bit far-fetched. Sure, Trump and Tiffany might not have the closest of relationships, but Trump's love for Ivanka runs (often uncomfortably) deep.
But it sounds like Westerhout maybe wasn't in her clearest state of mind when she made the ill-advised comments. According to one of Politico's sources, "She had a couple drinks and in an uncharacteristically unguarded moment, she opened up to the reporters." That she certainly did!