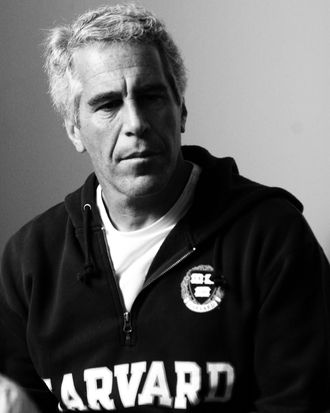 Jeffrey Epstein.
Photo: Rick Friedman/Corbis via Getty Images
Although Jeffrey Epstein's death precludes the possibility of the convicted sex offender standing trial, the allegations against him continue to pile up: On Thursday, attorney Lisa Bloom filed a sex-abuse lawsuit against the late financier's estate and his unnamed "recruiter," on behalf of two anonymous women who say Epstein assaulted them when they were 18 and 20 years old.
According to a press release from Bloom's firm, the suit seeks damages to the tune of $100 million "for the psychological devastation Mr. Epstein's predation caused to our clients' lives: their anguish, damaged relationships, self-esteem, career derailment, and much more."
Before his apparent suicide in Manhattan's Metropolitan Correctional Center, 66-year-old Epstein pleaded not guilty to federal sex-trafficking charges for allegedly enlisting "a constant stream of underage girls" to give him massages. Prosecutors believe Epstein molested his victims, frequently shuttling them between his various homes and paying them hundreds of dollars to bring in more minors. On Saturday, MCC staff found Epstein dead in his cell, but prosecutors pledged they would continue their investigation with special focus on any co-conspirators.
Bloom, meanwhile, vowed she would take action against Epstein's estate, asking its administrators to freeze his assets and "hold them for his victims."
Thursday's complaint alleges that in 2004 a "recruiter" — referred to as "Sue Roe" in the filing because, Bloom's release explains, her identity remains uncertain and "it is likely that she was a victim too" — approached the two plaintiffs at the New York City restaurant where they worked. According to the Guardian, the lawsuit states that they were aspiring models and "struggling financially." The recruiter reportedly told the young women they could make hundreds of dollars massaging Epstein, an arrangement they "reasonably believed … would and could provide much-needed financial support."
But during the massages, the lawsuit says, Epstein "became increasingly more aggressive." One of the women says he "made sexual advances": He allegedly began touching himself and then, "forcefully and without warning, grabbed Jane Doe 1′s breasts and vagina and then masturbated to completion." The women also say the recruiter offered one of them money to find Epstein more victims, which she did not accept.
In a tweet, Bloom said she was also "vetting" claims from five other women and demanded "that Epstein's estate … do right by all the girls and women he abused." Hers is not the only such lawsuit filed in recent days: On Wednesday, Jennifer Araoz sued not only Epstein's estate but his alleged madam — Ghislaine Maxwell — and three of his staffers, alleging that they "conspired with each other to make possible and otherwise facilitate the sexual abuse and rape of Plaintiff" when she was 15 years old. Araoz filed her lawsuit under New York's Child Victim Act, while Bloom filed hers under the federal Trafficking Victims Protection Act.
"Though Epstein is recently deceased, the trauma and pain he caused plaintiffs remains," Thursday's complaint reads, according to the Guardian. As such, these are likely just the first in a long series of legal woes for the money manager's estate and his apparently sprawling network of associates.