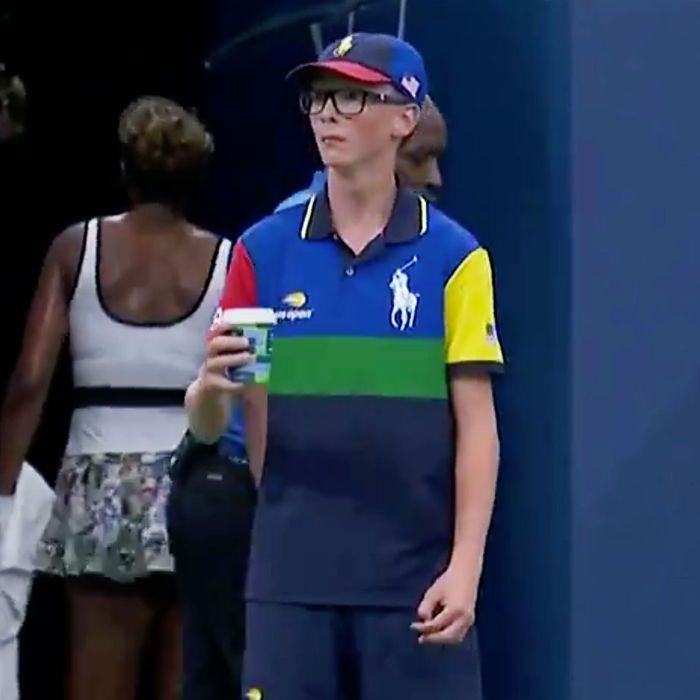 During the first set of her second-round U.S. Open match against Elina Svitolina, Venus Williams requested a coffee. A simple request, yes — or is it? In fact, it is not. The ball boy tasked with bringing her that coffee had a very hard time delivering it and, oh no, well, now I love him.
"Omg sweet man," a co-worker said upon seeing the video. "Omg," said another. "Omg," said yet another. "I'm triggered from when I used to have to go get coffee as an intern," said another, and another agreed: "Exactly! God forbid all our intern moments were broadcast on TV." "The way he turns around [sobbing emoji]."
[Sobbing emoji] indeed. He has my whole heart now, and I love him as my son. My sweet baby boy from the U.S. Open, dressed in clothes that immediately call to mind the card game Uno, which I have to imagine was not his choice; another bit of quiet devastation from which mama would love to protect him.
If only I were there. I would have gone out to the tennis court and said, "My child, I also don't know what you should do. I guess you should not follow her to the locker room? You seem to know that that isn't what you should be doing, and I trust you. I guess, okay, yes, let's maybe — hm. Well. Can we —? Actually … over here, maybe? Hm, well. Okay — how about … Well, no. Err, ah. Okay. Okay, sweetie, let's just … ahhh, well."