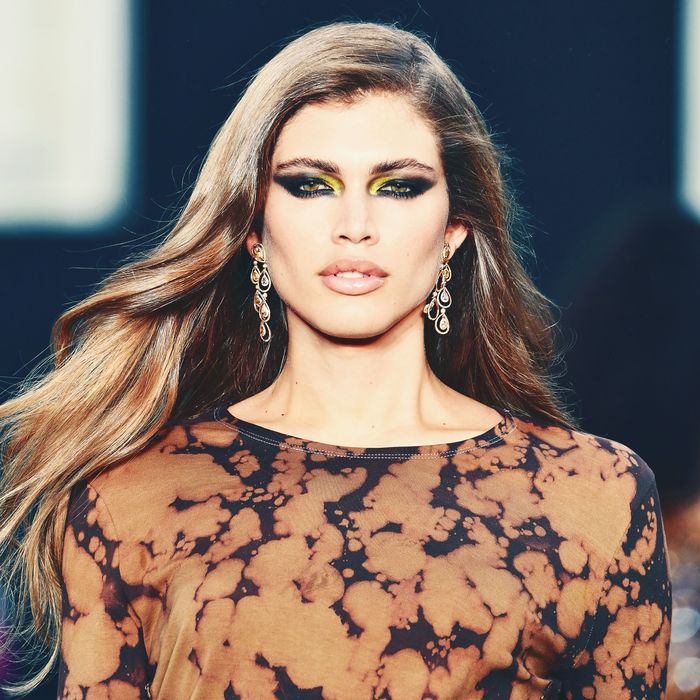 Photo: Pascal Le Segretain/2017 Getty Images
Valentina Sampaio has reportedly become the first openly transgender woman (and zillionth Brazilian model) to ink a contract with international lingerie company Victoria's Secret.
On Friday, the 22-year-old model posted a picture of herself getting ready for a Victoria's Secret Pink line photo shoot in Long Island, New York. The caption reads, "Backstage click @vspink #bastidores #new #vspink #campaign #representatividade #diversity #beauty #selfie #model #life #fashion #usa #vstorm #valentinasampaio #bomdia."
She followed up the post with a video, also containing the "vspink" hashtag, and some disconcerting background noise.
Sampaio's agent, Dario Zanon, confirmed to CNN on Monday that Victoria's Secret hired the model for a Pink line campaign that's slated to debut in mid-August. Sampaio was also the first transgender model to appear on the cover of any edition of Vogue.
Fellow Brazilian Victoria's Secret model Lais Ribeiro voiced her excitement over Sampaio's hiring, tweeting "First transgender to shoot with Vs! This make me so happy!"
According to E! News, Victoria Secret's parent company, L Brand,s has yet to comment on the reported hiring. In November, Vogue asked Ed Razek, the group's chief marketing officer, about the company's commitment to diverse representation, to which he responded with this bland, money-minded sound bite:
"I don't think we can be all things to all customers. It is a specialty business; it isn't a department store. I'm always asking myself: If we do that, what is the reason we did it? Why did we include that person? And did we include them to shut up a reporter? Did we include them because it was the right thing to do or because it was the politically correct thing to do?"
In the same interview, Razek asked and answered his own question about whether transgender models should walk in Victoria's Secret fashion shows, saying, "Shouldn't you have transsexuals in the show? No. No, I don't think we should. Well, why not? Because the show is a fantasy. It's a 42-minute entertainment special. That's what it is."
These comments, being wildly insensitive, created a PR disaster for the company; within a week, the brand's chief executive resigned, and Razek issued a tepid apology on Twitter, writing, in part,"To be clear, we would absolutely cast a transgender model for the show. We've had transgender models come to castings … And like many others, they didn't make it."