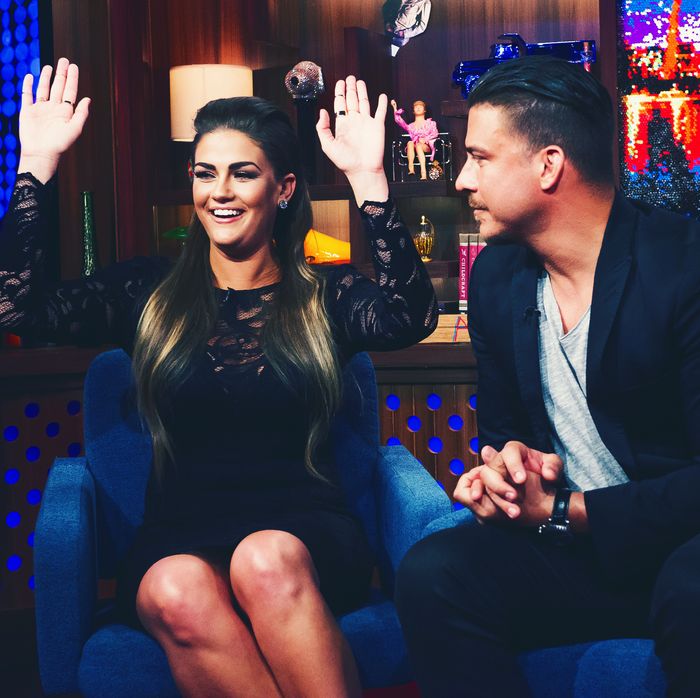 Photo: Bravo/NBCU Photo Bank via Getty Images
Mere days after Jax Taylor was spotted looking sad on a custom-made ice-chest scooter, the Vanderpump Rules star's wife, Brittany Cartwright, issued a statement via Us Weekly concerning the state of their marriage — which is fine.
The clarifying comment was prompted by rumors that there was trouble in SUP (sexy unique paradise) after Jax, at least a former fan of infidelity I believe it is far to say, was spotted without his wedding ring. Indeed, it was the same outing during which he was spotted on that little ice scooter. Does the ringlessness mean anything is amiss? Cartwright told Us Weekly that it does not.
"We have to laugh about stuff because, I mean, there are articles saying that our marriage is in trouble and stuff like that. I'm just like, 'Oh my goodness,'" she said. Oh my goodness, indeed. But have they been so solid?
"We have been so solid," she said. "I don't even worry about it because as long as we're happy and we're doing good, that's all that matters, you know?" But then … why the ringlessness? Brittany says it could have been because he was working out, when he takes it off so he "doesn't mess it up."
"I love his ring, I love seeing it on him," she said. "He's always wearing it, he hasn't lost it or anything yet, I was really worried about that … He's even gonna get workout rings that he can wear to the gym."
Well, all right then. I genuinely hope everything is okay. And, of course, I am, uhhhh, somewhat looking forward to the new season of Vanderpump Rules.