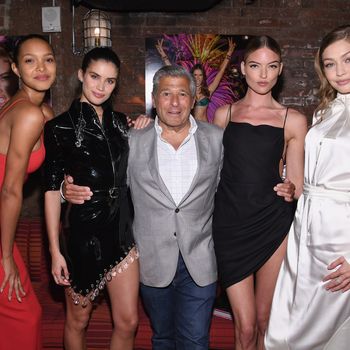 Photo: Dimitrios Kambouris/Getty Images for Russell James
It looks like the tides are finally changing at Victoria's Secret. Just days after word spread that the company was hiring Valentina Sampaio as its first transgender model, Ed Razek, the longtime CMO of its parent company, L Brands, is leaving the company. According to the New York Times, a memo was sent around to employees on Monday announcing his retirement.
The timing is particularly interesting as Razek and the lingerie retailer have faced mounds of controversy in recent months. First, for Razek's offensive transphobic comments that he made to Vogue in November. Though Razek claimed that the company had "considered putting a transgender model" in its annual fashion show, he said he didn't think it should because "the show is a fantasy."
Secondly, Razek is leaving during a time when the brand is facing scrutiny for the "mentor"-and-"protégé" relationship between L Brands CEO Les Wexner and convicted sex offender Jeffrey Epstein, who allegedly tried posing as a recruiter for Victoria's Secret in 1997. Wexner has claimed that he severed ties with Epstein years ago.
Since joining the company in 1983, Razek has had a massive impact, helping launch the careers of notable Victoria's Secret Angels Heidi Klum, Tyra Banks, and Gisele Bündchen. He also had a huge part in cultivating its signature airbrushed and hypersexualized identity, something that is becoming more passé as diversity and body-positivity are dominating the mainstream.
Perhaps Razek's departure and the hiring of Sampaio are part of Victoria's Secret's plan to attempt some sort of comeback, but there's a long road ahead. The company does not seem to hold the same power that it once did in the world of retail: Since the beginning of 2019, it has reportedly been suffering from decreased sales and has announced the closing of more than 50 brick-and-mortar stores. And its once-popular fashion show has experienced a decline in viewership, leading the brand to "rethink" its annual event.