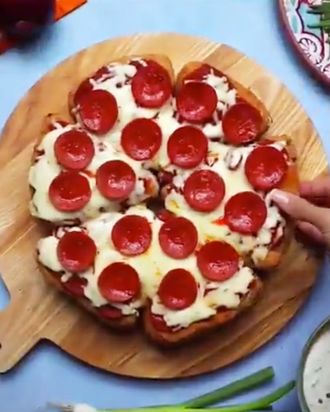 The "Deep Fried BBQ Chicken Stuffed Pizzadilla."
Photo: Twisted
Not even two months after people across the country rushed to movie theaters to see Midsommar, a new riveting horror film is sweeping the nation: a video of someone making something earnestly titled "Deep Fried BBQ Chicken Stuffed Pizzadilla."
While it's difficult to determine the film's exact release date, the cursed material started appearing on people's social-media timelines over the weekend, at which point the reviews swiftly started to roll in. "I'm calling the FBI," journalist Yashar Ali tweeted alongside the video on Friday. In response to Ali, Twitter user Robert Schooley chimed in, "This thing has more surprise twists than an M. Night Shyamalan movie." As of Monday morning, the video tweeted by user @_kurlykay — the first person to have shared it — has been viewed more than 18 million times.
For those who read horror-movie Wikipedia pages in lieu of seeing the actual film because they're too afraid, here's a quick summary of the sacrilege: A cheesy-meaty slop gets pressed between two tortilla slices, which then gets breaded and deep-fried, which then gets turned into a pepperoni pizza that you're supposed to dip in ranch. It is the recipe equivalent of "asdfghjklqwertyuiopzxcvbnmasdfghj." (That's 33 letters — one for each ingredient in the recipe, which comes from British food website Twisted Food.)
Watching the video, you experience many of the same reactions you would during, say, The Descent or Hereditary: revulsion; horror; shock; debilitating dread. And yet, all of the unimaginable plot twists are incredibly compelling. The addition of tortillas! And then breading! And then pizza sauce!!!
So … should we all be expecting to die in approximately seven days?