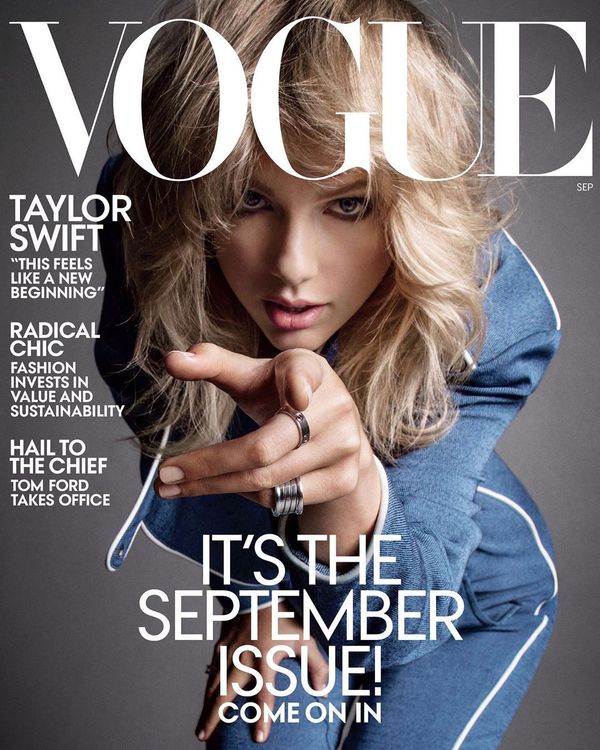 "IT'S THE SEPTEMBER ISSUE!"
On Thursday morning, Taylor Swift and her pointing finger, stacked with Cartier and Bulgari rings, announced the arrival of Vogue's biggest issue of the year. In a cover image photographed by Inez & Vinoodh, she crouches down in a blue Louis Vuitton jumpsuit, stooping to our level, and makes direct eye contact with the camera through a halo of blonde Farrah Fawcett bangs. She looks like Uncle Sam on the classic World War I army recruitment poster, saying: "I WANT YOU … TO BUY THIS MAGAZINE."
Has a Vogue September issue ever announced itself so explicitly? For years, the magazine measured its value in weight: "902 PAGES OF FABULOUS FALL FASHION." But as magazines in general are getting thinner, publications have had to find new ways of getting a reader's attention. To break through the noise of social media, a magazine cover has to be an event. Taylor Swift is a reliable pot-stirrer, but I think it's safe to say that positioning her as Uncle Sam is a new one for everybody.
By comparison, Vogue hired a then-23-year-old Tyler Mitchell to photograph Beyoncé last September, making him the first black photographer to shoot a cover in Vogue's 126-year history. Although Beyoncé herself refused to be interviewed, submitting an "as told to" essay instead, the issue was generally seen an example of the publication using its platform for progress.
British Vogue tried something similar this month, handing over the keys to Meghan Markle, who chose to highlight 15 different women she believes to be "Forces for Change." Putting herself on the cover, as her in-laws have done, would've been too "boastful," she modestly told editor-in-chief Edward Enninful.
Readers today, especially politically minded ones, are more aware of the power structures embedded in, and emanating out, of the images they see. Sharing that power is one way everybody wins. Beyoncé knows this. Meghan Markle knows this. And Anna Wintour knows this, too. So, why portray Taylor Swift as … Uncle Sam, an old white guy with a goatee who looks like he caught me putting the Brita filter back in the fridge without refilling it?
A brief synopsis: Taylor Swift is on the brink of releasing her seventh album, Lover, which follows Reputation. (We love Reputation.) She's no longer a snake, or America's sweetheart; she's a butterfly. She acknowledges that she hasn't made some of her political opinions "clear enough or loud enough," in the past, and she's trying to be more vocal. Vogue then lists the steps she's taken since the 2016 election, like advocating for LGBTQ rights, endorsing Democrats for the Tennessee Legislature, and encouraging her fans to register to vote, which a lot of them did. The magazine also points to her history of more "subtle" actions as well, like "sending pro-LGBTQ signals" with lyrics like the "Welcome to New York" line: "And you can want who you want. Boys and boys and girls and girls."
Overall, the piece seems determined to paint Swift as someone who's been unnecessarily "canceled." It asks of Swift's critics: "Had they not been paying attention?" Her pointing finger becomes a wagging one. What have YOU done for your country lately?
The Vogue cover might be mimicking a call to action — Uncle Sam asking YOU to sign up for the army — but it's not asking anyone to do anything, except maybe buy the magazine and applaud Taylor Swift. It's a surface-level gesture at the idea of civic duty, and in this way, encourages the same sort of thinking that's threatened to get Swift "canceled" in the first place: That political involvement is a points system. If you check off enough boxes, and appear to care, then you're not a bad person. In a climate when celebrities like Cardi B and Rihanna are sitting down with 2020 candidates and calling out Trump on a pretty regular basis, we've come to expect more.
When Taylor Swift tweeted the article, her language read a lot like Vogue the headline: "THIS IS A THING THAT'S HAPPENING," she said. Can't argue with that.