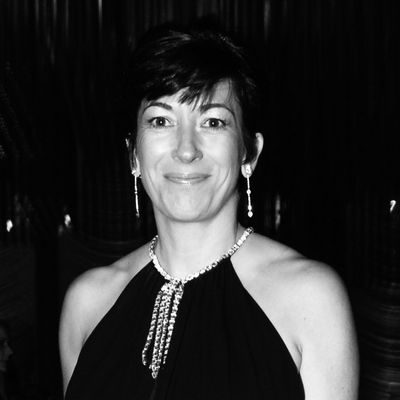 Photo: Patrick McMullan/Patrick McMullan via Getty Image
When accused Jeffrey Epstein co-conspirator Ghislaine Maxwell resurfaced suddenly last week, with uncanny breeziness, at an In-N-Out Burger in Los Angeles, the accompanying photo op in the New York Post seemed almost too perfect.
Maxwell, posing with her chin in her hand and looking directly into the camera, casually reading a book about CIA operatives, seemed impossibly chill about finally being found after weeks of speculation about her whereabouts. And about possibly facing criminal charges, now that Epstein is no longer alive to bear the brunt of the attorney general's inquiry into his crimes. As with all things Maxwell, there was something slippery and calculated about the former socialite planting herself, one day after the Daily Mail said she was holed up with her Massachusetts boyfriend, at In-N-Out for a double-double.
So it's not entirely surprising that there's speculation that the photo might have been too good to be true. First, the intrepid Daily Mail checked out the location of the burger joint in Hollywood where Maxwell was allegedly spotted by a regular last week and found some odd discrepancies. Notably, a bus stop in the background of the shot shows an advertisement for the movie Good Boys — which the company that operates the ad space said has never been there. The bus stop currently displays an ad for a local hospital, which it says has been there since July 28. Maxwell was supposedly photographed at the In-N-Out on August 12.
Now the Daily Mail is also reporting that metadata on the photographs points to Meadowgate Media Investments, a company owned by Maxwell's friend Leah Saffian, an attorney who once represented her brother. "The In-N-Out burger joint picture was published by the New York Post on Thursday after they obtained it from Saffian, 60," an updated version of the article now says. They paper even claims that the dog in one of the pictures resembles Saffian's dog, Dexter.
Questions about Maxwell's lunch outing have fed into the already robust set of conspiracy theories around Epstein, his high-profile acquaintances, and his death. Why was a second smartphone on the In-N-Out table? Why did Maxwell never stick a straw in either her soda or her shake? Why did the diner who supposedly photographed her have such a nice camera, with a lens that took a very clear photo? It doesn't help that the In-N-Out employees at that location have been forbidden, supposedly by their employer, to talk about Maxwell's visit.
If Saffian did indeed leak the photo of Maxwell, it was likely to try and throw the FBI off her scent. Maxwell was also rumored last week to be hiding out in the south of France, staying with one of her sisters, Christine Maxwell, an early internet and technology pioneer who helped co-found the website Magellan. But Christine reportedly sold that property in 2015 — and was seen on Saturday packing bags into a car in front of the Manchester-by-the-Sea mansion where her sister was said to be living with her boyfriend. (He denies that the two are seeing each other or that Maxwell is living with him.)
If the In-N-Out photo is indeed doctored, Maxwell could be anywhere and could show up anywhere she pleases. What's next? Some predictions: eating a hot dog on the steps of the Met, posing with a cactus at Joshua Tree, riding a unicycle at Burning Man, or painting her nails on the C train.