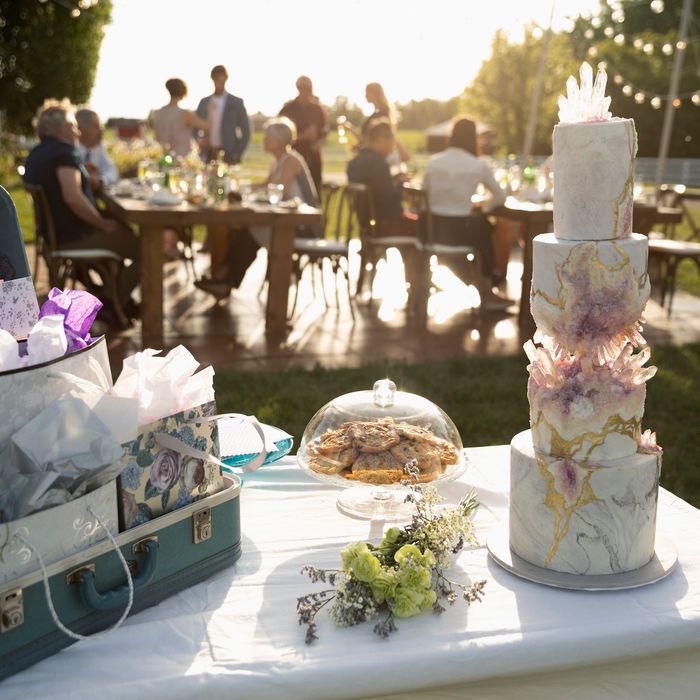 Photo: Hero Images/Getty Images/Hero Images
Question: When you attend a wedding, do you still bring a gift, or do you take the lazy approach and purchase something from the couple's online registry so it gets shipped directly to their home? Sometimes I think doing the latter is actually easier for the couple because they won't have to lug it home from the wedding venue. And in this case of a serial wedding-gift thief, it might actually be safer.
Police in Texas are looking for a woman suspected of showing up to weddings uninvited, posing as a guest, and stealing the newlyweds' gifts. According to news station KENS 5, Comal County detectives say the woman, who has been nicknamed "the Wedding Crasher," has hit four nuptials near San Antonio with her sticky fingers and believe there could be more. If you're wondering just how this woman could have snuck out of the festivities while carrying the wedding gifts, which are typically large kitchen appliances like slow cookers and blenders, she goes for more discreet loot, like envelopes of cash and gift cards. Evil yet brilliant.
Luckily, police have been able to match the stolen gift cards to purchases made at the associated retailers. "That's really been the break in these investigations, is that the venues are able to get the video to us, as well as where the gift cards have been executed, we're able to take those two videos, put them next to each other, and go, 'That's the same person,'" Comal County Sheriff's Office detective Scott Frakes told KENS 5.
Rhonda Hollon, president of the New Braunfels Wedding Chamber, said she has seen the suspect and her accomplice at open houses hosted by her organization. "We've had many open houses during the summer that we've seen them strolling around checking out the vendors and venues," she said. The Comal County Sheriff's Office is offering a reward of $4,000 to anyone with information leading to an arrest.