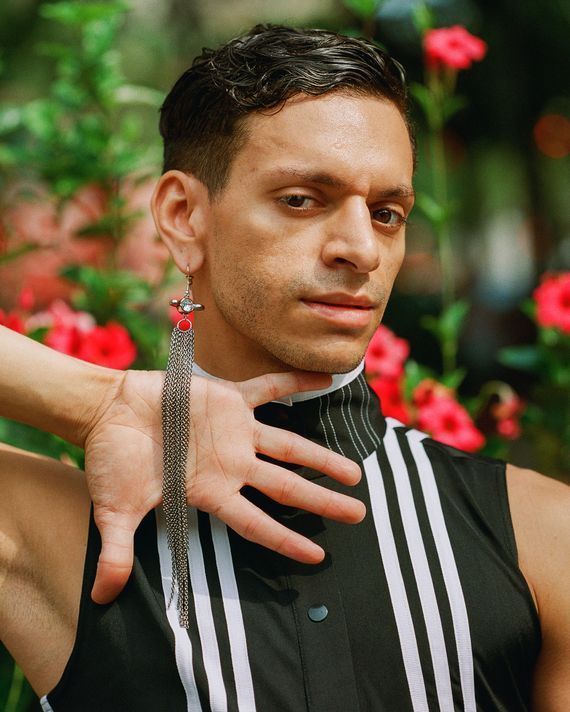 The reaction to Harry Styles's semi-sheer Gucci Met Gala outfit this year was mixed, but onlookers agreed on one thing: His single pearl earring was the accessory of the night.
One-sided and off-balance, the single dangly earring is back. In the mid-'80s, it was sported by Rob Lowe in St. Elmo's Fire, Bob Dylan at Live Aid, and George Michael pretty much everywhere. It even traveled into the '90s in the form of Michael Jordan's gold hoop. And now it's reemerged. "Old Town Road" rapper Lil Nas X often performs in a hanging-cross earring. Flamboyant reggaeton singer Bad Bunny regularly wears an even longer one. Onscreen, Julio Torres sports a singly dangly and blue hair in Los Espookys. And in the trailer for American Horror Story: 1984, Cody Fern smolders in impossibly short shorts, a tight tank, and a lopsided piercing.
The look isn't confined to celebrities. Per one meme, the earring is in favor among "gays, musicians, artists, goths, skaters, and bisexuals," or, as one earring-wearer phrased it, "creative souls in Bushwick and the East Village." Like the skinny mustache, it's an accessory that plays with gender tropes — a traditionally feminine applique that now spans a full range of masculinity and femininity. You can find it hanging from the ears of boys kissing boys outside of queer bars in Bed-Stuy, and on the ears of boys kissing tattooed, short-haired girls on subway platforms in Williamsburg. The single dangly truly does not discriminate.
Troy, a graphic designer spotted at a gay bar, called his single earring a "female repellent" and said that he chose to pierce his right ear — the "gay" ear, according to the historical trope — to indicate his queer sexuality. "I'm trying to tell the world, 'Hi! I'm a gay witch,'" he said.
Nevertheless, today's single dangly earring tends to resist identitarian labels, and many of the sources interviewed said they hadn't thought about the "gay ear" code since college, or public high school in the 90s. Phillip Picardi, editor in chief of Out magazine, quipped, "I am about as gay as the day is long, so both of my ears are my gay ears."
"I don't really attach sexuality to clothing," said Kam, an artist who identifies as straight. "If I like something, I just wear it." Referencing the old "no white after Labor day" rule, which some believe was a way for the upper classes of society to distinguish themselves from the working class, Kam makes an argument for leaving behind the things that divide us: "That shit is not really real, unless it's real to you."
Instead, the decision about which side to dangle has become increasingly practical. Paul, a copy editor, said he chose the right because he sleeps on his left. Jason A. Rodriguez, an actor and voguer from the TV series Pose, said he takes better pictures on his earring side. And outside of a Brooklyn nightclub, one man told the Cut that he didn't even intentionally step into the trend; his now signature one-sided piercing came about when the other earring was ripped out during a particularly heated blowjob.
What appealed to many wearers was the earring's jaunty asymmetry. Ethan, another artist, said, "Asymmetry seems like a bit of a metaphor for nonconformity."
The fashion world shares this affinity for imbalanced ears. Celine brought the single dangly to the spring 2020 runway. Dior showed a much sparklier version with clean white jackets and shorts. And Jacquemus, already a fan of asymmetrical jewelry, took the earring to even longer lengths in a unisex show in a lavendar field. Lopsidedness, it seems, is having a moment.
And why not? Everything feels unbalanced these days; might as well lean in. Says Rodriguez, "I like the distortion. Maybe the imbalance will help me find some balance myself." Adds Kam, who has a lazy eye from a childhood accident, "This is just another part of my asymmetry, but I get to choose it."
*A version of this article appears in the August 19, 2019, issue of New York Magazine. Subscribe Now!
More From the fall 2019 fashion issue
See All