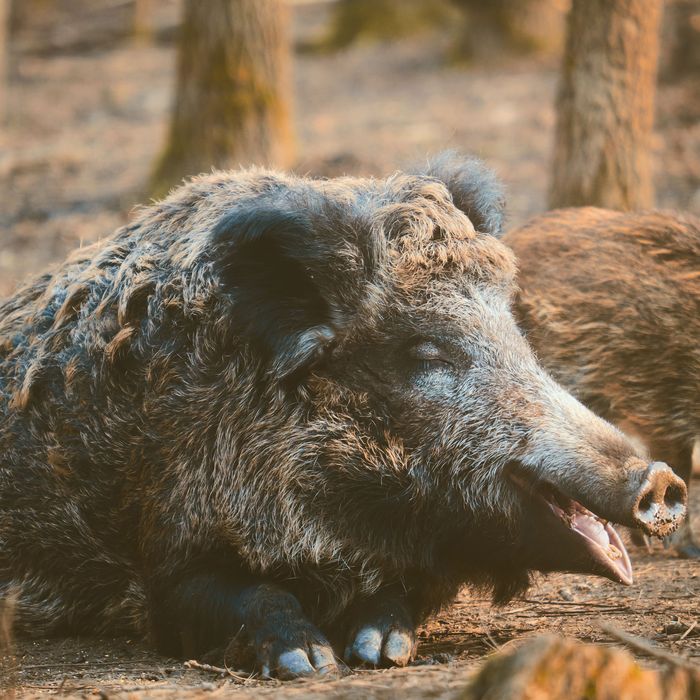 Photo: Tamas Zsebok / EyeEm/Getty Images/EyeEm
Broken Brain is a catalogue of the things we find hilarious because our minds have been irreparably damaged by the internet.
On Monday, a Twitter user named William McNabb asked a question.
"Legit question for rural Americans — How do I kill the 30-50 feral hogs that run into my yard within 3-5 mins while my small kids play?"
The question is alarming enough on its own. How do you kill 30 to 50 hogs that run into your yard? How do they get in so quickly (three to five minutes)? Do you live in a feral-hog enclosure, and have you considered not living in a feral-hog enclosure? Even more alarming: McNabb asked the question in response to a tweet about banning assault rifles, implying that his current method for dealing with his home's infestation is carrying a machine gun into his yard, where his small kids play, and spraying the hogs with bullets.
In response to McNabb's question, some people suggested a fence, maybe. But mostly, people just turned the question into a meme.
We believe that, rather than massacring the hogs, they should be embraced, loved, and nurtured for who they are. Contrary to McNabb's implication that 30 to 50 feral hogs in one's yard need to be gunned down, we submit that they should become a part of the family. This would first require naming every feral pig that comes into your life. "That's too hard," you say? We just did it.
Sarah
Quince
Slappy
Lance
Jasper
Kamer
Skylyr
Sweetie
Carrie
Miranda
Charlotte
Samantha
Trash & Trish (married, have one baby, Trough)
Rinse
Transter
Muffin
Squealy Dan
Banksy (only if it's really him)
Filthy
Tronc
Mudpie
Flappy
Mr. Mistoffelees
Starbuck
Burger
Bill de Blasio
John Delaney
Tim Ryan
Michael Bennet
Steve Bullock
Operation Varsity Oinks
Monty
Crabapple
Diplo
Morgan
Peppa
Juliette Binoche
Megan Rapignoe
Harry Porker
Frances
Boarum Hill
Pink Lightning
Rat
Hooch
Madeleine & Bridget (the two most beautiful)
Xander
Cherish
Arielle
Timberlake
Lauren