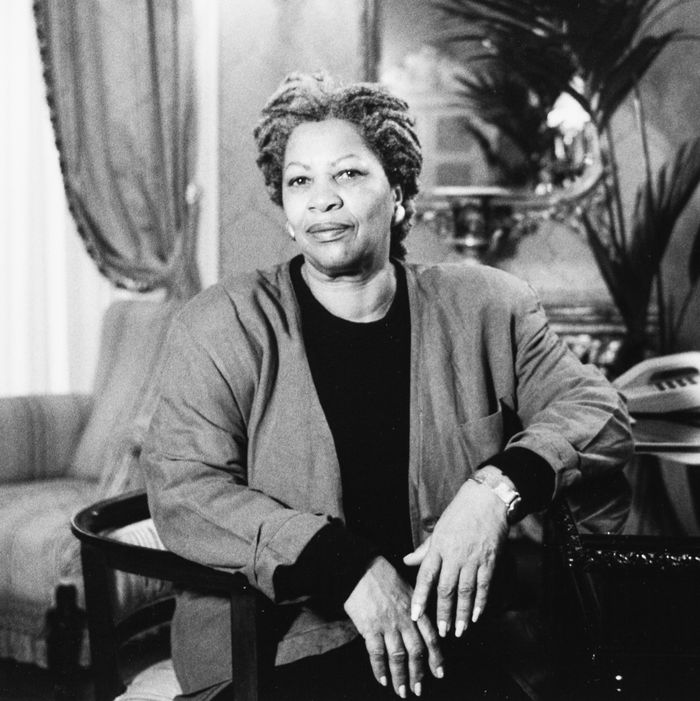 Toni Morrison.
Photo: Leonardo Cendamo/Getty Images
Toni Morrison, the best-selling author and first black woman to win the Nobel Prize for Literature, died Monday night at the age of 88. Morrison was the author of 11 novels, including Beloved, which won the 1988 Pulitzer Prize for fiction.
It's hard to overstate the influence of Morrison's work — not only as a novelist but as an editor and teacher as well. In 1988, after the publication of Beloved, more than two dozen black writers, including Maya Angelou and Alice Walker, published an open letter in the New York Times protesting the fact that Morrison had not yet won the Pulitzer or the National Book Award. The authors wrote that Morrison's writing had "advanced the moral and artistic standards by which we measure the daring and the love of our national imagination and our collective intelligence as a people."
Here are Angelou, Angela Davis, Tayari Jones, and more discussing what Morrison has meant to them over the years.
Kaitlyn Greenidge, author of We Love, You Charlie Freeman
"Whenever I read Morrison, I am astonished by the idiosyncrasies on display. She was a writer who was always herself, and her insistence on exploring the complexities of her specific interiority — as a black American woman, as a Midwesterner, as a child of the Great Migration — is a great gift for those of us who are told, over and over again, that we don't have an inner life, or if we do, it can't possibly be as interesting, as relevant, as 'universal,' as that of a white man of a certain economic class. Morrison's insistence on the urgency, the necessity, the beauty of her own interiority is the legacy she leaves to the generations of black women artists who came after her. She offers to us a vision of uncompromising genius and unfettered artistic freedom that this world works very, very, very hard to steal from us and punish us for even dreaming of."
Tayari Jones, author of An American Marriage
"I could divide my life into before and after Beloved by Toni Morrison. I was about 19 when I read it. I hate to use such a chilly word to describe an experience that was spiritual, emotional, and intellectual, but Beloved made me feel contextualized. That is the only way I can explain it." —The Guardian, 2019
Brit Bennett, author of The Mothers
"That's one thing I love about Toni Morrison: She's not interested in writing about white people. She writes about black communities, and whiteness will linger or influence the story, but her characters are thinking about other black people, their own problems, their own lives. That notion of decentering whiteness from a narrative was important to me and felt realistic to how I experience life as a black woman. That was something I kept in mind while writing. The fact that that's surprising says a lot about how people think black people experience the world." —The Millions, 2017
Téa Obreht, author of The Tiger Wife
"Toni Morrison was a trailblazer, an innovator, the architect of some of the English language's most complex and staggering prose, a visionary who reminded us time and time again that our reckoning with the past has only just begun, and that our duty, in art and in life, is to always do the hardest work we can. We are lucky to live in a world brightened by her words."
Maya Angelou, author of I Know Why the Caged Bird Sings
"In the midst of my misery, I wrote a letter to Toni Morrison. We hadn't even met at the time, but I wrote a letter to her to say thank you. Thank you very much for not only seeing me … but seeing me as an African-American woman and loving me. This is what this woman has done through ten books: loving, respecting, appreciating the African-American woman and all that she goes through, whether it's in Beloved, The Bluest Eye, whatever it is." —honoring Morrison at Virginia Tech, 2012
Elizabeth Alexander, author of The Light of the World
"I can only gesture towards the holistic grandeur of [Morrison's] vision, her consistent historical excellence, and her invention … The integrity that never flags and the profound love for black people in all of our complexity that animates the work. In encountering and imagining black people as infinitely fascinating and worthy of her sustained artistic attention, Morrison gives us a sterling example of how, while great art is great art, sometimes great art also ennobles a people." —delivering the Toni Morrison Lectures at Princeton, 2014
Angela Flournoy, author of The Turner House
"I'm always thinking about Toni Morrison. There's just a way that her writing permeates through with the understanding that this is a serious undertaking, that these [characters] are worthy. They don't have to be perfect, but they're worthy." —The Rumpus, 2016
Angela Davis, author of Angela Davis: An Autobiography
"Toni was an absolutely phenomenal editor. She paid so much attention to detail yet did not insist on having a work become a reflection of her own ideas. She asked me questions that challenged my imagination — she asked me to remember differently. Our relationship was grounded in that editing relationship, which became a friendship as well." —WSJ magazine, 2019
This post has been updated.