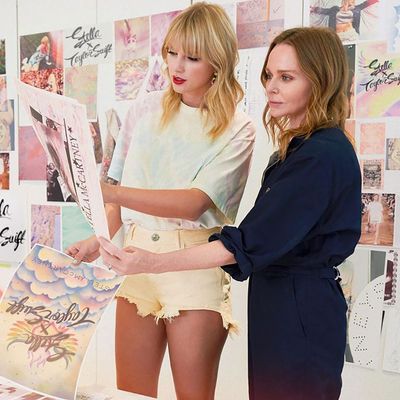 Photo: taylorswift/Instagram
The last time Taylor Swift dropped merch, it was snake jewelry because she was in her "can't come to the phone right now" phase. But now, in her Lover era, she's all sunshine, rainbows, tie-dye, and organic cotton. The singer has collaborated with designer Stella McCartney on a collection, which is available now online and at a pop-up shop in New York.
Act quickly if you're buying online, because select products are only available until 5 p.m. EST today. You can get T-shirts with tattoo-like script that reads "like a Tennessee Stella McCartney," which is a reference to her song "London Boy." (Have you listened to "London Boy" yet? You should listen to "London Boy.") Because McCartney is a champion of sustainable fashion, the core album merchandise is made from sustainable organic cotton. There's also a reusable water bottle. Tees from the collab start at $60. Two limited-edition pieces are also available on Stella McCartney's site for today only: a bomber jacket and a handbag retailing for $1995 and $795, respectively.
And then there's the pop-up. It's open at 60 10th Avenue from 10 a.m. to 8 p.m. on Friday (today) and Saturday, and 11 a.m. to 7 p.m. on Sunday. Swift is not confirmed to make an appearance, but she does like to surprise her fans (like yesterday, when she gave pizza to people waiting for her GMA performance). And if you're in Chelsea this weekend, enjoying the Whitney or Chelsea Market, be prepared to see Swifties.