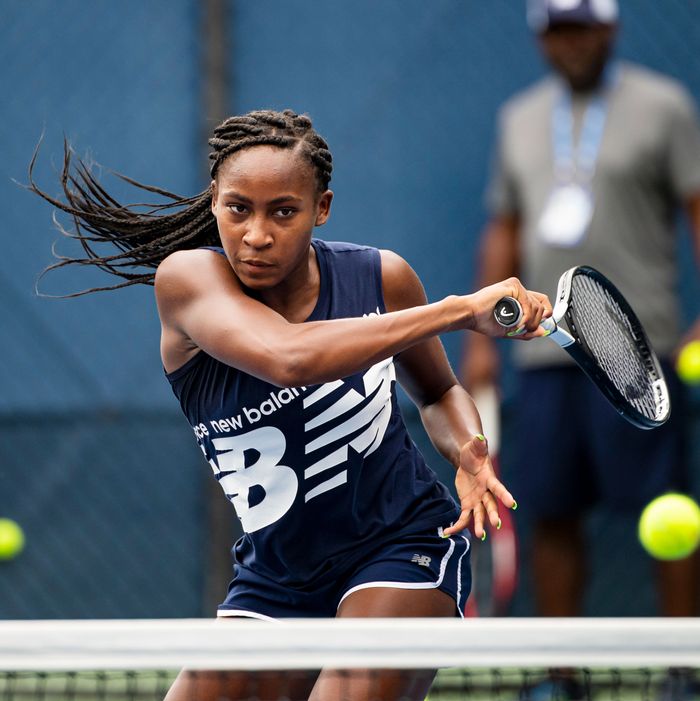 If anyone will save us, it's the teens, and 15-year-old tennis sensation Cori "Coco" Gauff is our new favorite prodigy on which to hang our hopes and dreams. The Florida athlete — who was born in 2004 — dominated in her first match last night at the U.S. Open, and now the world is asking, who is this wildly talented teenager?
Gauff was inspired by the Williams sisters.
"Serena Williams has always been my idol … and Venus," Guaff said earlier this year. "They are the reason why I wanted to pick up a tennis racket." She grew up in Delray, Florida, not far from Pompey Park, where the sisters often play. Gauff took up the sport when she was only 6 years old and was training with the Williams's coach, Patrick Mouratoglou, in France by the time she was 10.
Gauff's parents told Good Morning America in July that they "hadn't seen many African-American women in the sport, so when they started winning and having success and trailblazing," her father said, "some of the challenges that they went through made it a lot easier to get into the sport and it allowed us to be a lot more confident about choosing [tennis]."
Then she famously beat Venus Williams at Wimbedon this year.
When Gauff faced off with one of her idols, Venus Williams, at Wimbledon earlier this summer, she had no idea she was about to win — and to become a household name. As the youngest player to qualify for Wimbledon in the Open era, she beat Williams in both sets of their match, and immediately broke down in tears. The footage went viral. "I wouldn't be here if it wasn't for her," Gauff said of Williams after the match. "I told her she was so inspiring, and I've always wanted to tell her that but I've never had the guts to before." After that moment, she also became the youngest woman to win a Wimbledon match since 1991. And she hung out with Michelle Obama.
She wants you to #CallMeCoco.
Gauff is the subject of a New Balance ad, which debuted a few days before the U.S. Open began in New York, that emphasizes her underdog status and that she prefers Coco to Cori. "Call me what you want, but win or lose," Gauff says of her naysayers, "just call me Coco." Has there ever been a cuter sports superstar nickname?
Coco is just a cool teen!
At the end of the day, yes, Coco is an internationally ranked tennis star, but she is also a teen, and thus her Instagram contains shoe ads and golden-hour photo shoots, such as these:
She went to an Ariana Grande concert:
She quotes Rihanna in her captions:
Please, universe, keep giving us more teens to model ourselves on!