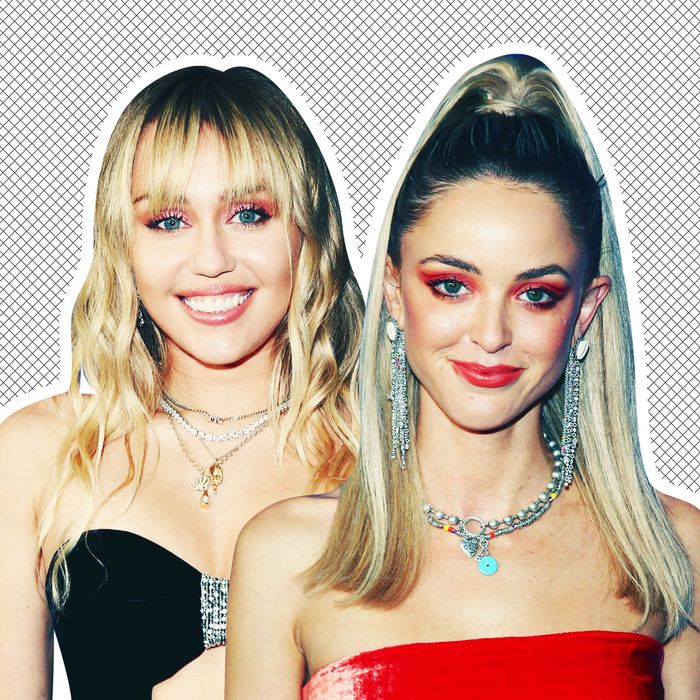 Miley you know, but Kaitlynn Carter … who is she?
Photo: Getty Images
First things first, your initial assumption was correct: I do in fact live under a rock. Even so, I'm aware that Miley Cyrus and Liam Hemsworth broke up (my damp dirt home gets Wi-Fi) after roughly six months of marriage, and ten years of intermittently mashing faces. I'm also aware that their veneer of mutual respect dissolved within … minutes? hours? — very quickly, and that both sides are now telling distinctly different stories about what kinda chaos torpedo sank their love boat.
According to the Cyrus camp, via TMZ, the 26-year-old "tried valiantly to save the marriage and the dealbreaker was that Liam was drinking a lot and using certain drugs." According to the Hemsworth camp, his spouse's cheating did them in, and all that noise about partying (literal noise, as Cyrus set her grievances to music in a new single, out today) amounted to "another attempt by Miley to distract from her infidelity and recent outrageous public behavior," apparently with one Kaitlynn Carter.
Which is to say, who? I'm sorry, I don't know her!
Kaitlynn Carter: Why do I know that name?
If her name sounds familiar it might be because there's a Kaitlynn/Caitlin/Kaitlin Carter in your orbit, or because you consume entertainment news, and read that Kaitlynn Carter put her face on Miley Cyrus's face last weekend: As Cyrus and Hemsworth announced their split on Saturday, photos of Carter and Cyrus vacationing in Italy surfaced, and some were not so innocent. The pair had been spotted canoodling, and in one pic, kissing. Scandale!
Cyrus identifies as pansexual and has alluded to some degree of (consensual-seeming?) non-monogamy in her relationship with Hemsworth. But upon seeing the snaps, Hemsworth nonetheless felt "devastated," a friend of his told "Page Six."
Anyway, to sum up, you probably know Kaitlynn Carter's name because she and Miley Cyrus made out.
Okay but who is she?
Carter is a 30-year-old blogger — is she me? — and e-commerce entrepreneur originally from Peterborough, New Hampshire. (Phew she's not me.) She reportedly launched her style blog, named Hey, Miss Carter in what I must assume is a nod to Beyoncé, in 2014, a few years after graduating from the University of New Hampshire with an English degree.
The blog appears dormant right now, but once upon a time you could read about things like the making of Carter's wedding dress, and how to get "sleek, frizz-free hair on your next tropical vacay," and brunch, all the typical L.A.-style blogger fare, really. One topic of special interest to me, however, was the "love" column entitled, "What Would Brody Jenner Do?"
I'd never thought to ask.
Wait what Brody Jenner is involved?
Brody Jenner, I haven't heard that name in years! Apparently, though, the former Hills star has since turned DJ, and also took Miss Carter as a wife. The pair reportedly met in 2014, became engaged in 2016, and wed in Bali in June 2018 … or did they?? According to Entertainment Tonight, the couple may never have bothered to make their union official: "They never did it in the U.S., so it wasn't legal," an unnamed source recently told the outlet. "But they had a wedding in Indonesia."
Whatever, just two lovebirds and a buncha yaks!
These days, Carter is single, as she and Jenner broke up earlier this month. Sources close to Jenner have insisted that he "could not care less" about the poolside tonguing, because he and Carter "have been over for a very long time," apparently even before their official split. Jenner, 35, is also dating a 22-year-old model now, so.
Did Kaitlynn Carter ever take Jenner's last name? Because that would be confusing at family events.
Not that I can tell, although "Carter-Jenner" seems plausible.
Okay but so what does Kaitlynn Carter do?
Her blog now defunct (or at least it seems to be; the last post is from July 2018), Carter "is now pouring her time and energy" into her own personal skincare line, according to Us Weekly. But between these two gigs, she joined her then-maybe-husband on The Hills: New Beginnings, a role she recently told castmate Whitney Port she was hesitant to assume. And now no longer occupies, it seems.
And what's the deal with Miley?
I don't really know because no one tells me anything! Immediately after their spicy pics hit the internet, though, Cyrus got a little punchy with Jenner. "Go take a nap in your truck and cool off #HotGirlSummer," the singer commented on an Instagram post in which Jenner and his buddy appeared to be snickering over the drama. Carter, meanwhile, was on her own phone, streaming herself noodling around to "Don't Worry, Be Happy." The fun 'n flirty vacation seems to have continued apace.
Now that it is over, however, the ever-present (and extremely gossipy) sources tell People that Carter and Cyrus are "staying together" (?!?!?!) in an arrangement that is "romantic, but also a friendship." The pair are reportedly "bonding" over their break-ups, and while this alleged insider didn't say how Carter feels about all of this, they did say this of Cyrus: "Miley is okay, but you can tell she isn't 100 percent happy."
Rock the boat, don't rock the boat baby, as they say.