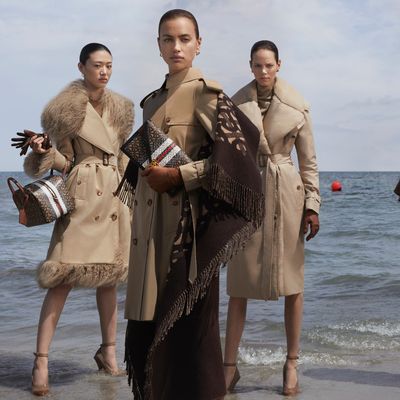 Photo: Danko Steiner and Nick Knight
What's that on the horizon? Trench coats. Both literally and figuratively in this case. On the one hand, we are inching toward the season when it is finally appropriate to look crisp and classic in beige coats, and on the other, the models in the brand-new Burberry campaign are standing on the beach in trench coats.
The fall/winter 2019 campaign, shot by Danko Steiner and Nick Knight, stars a ton of models including Irina Shayk, noted Burberry fan, and Gigi Hadid. The clothes celebrate the duality of England — the princess and the punk, if you will. "I have been thinking a lot about England as a country of contrasts, from the structured to the rebellious and free, and I wanted to celebrate how these elements coexist," designer Riccardo Tisci said in a release. See more from the campaign below.