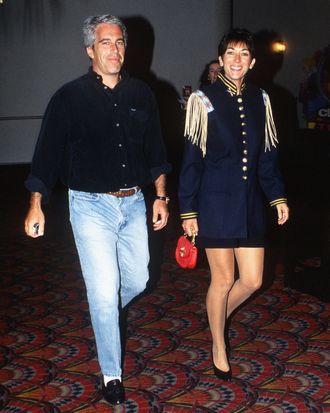 Jeffrey Epstein and Ghislaine Maxwell.
Photo: Patrick McMullan/Patrick McMullan via Getty Image
Ghislaine Maxwell, the socialite on Jeffrey Epstein's arm, was, for many years, the financier's right-hand woman and best friend. She was also, allegedly, his lure, go-between, and fellow abuser of young women, as newly unsealed documents allege. With Epstein's death, by suicide, in a Manhattan jail cell this weekend, thousands of questions may never have satisfactory answers and focus is likely to intensify on his collaborators, co-conspirators, enablers, and friends. Where is Ghislaine?
Maxwell, 57, has barely been seen in New York since she sold her townhouse in 2016. (Was it hers? Was it Epstein's?) But in the court records unsealed on Friday, depositions and filings from a 2015 defamation suit brought against Maxwell by Virginia Roberts Giuffre, one of Epstein's alleged victims, she is everywhere. These documents — more than 1,000 pages at a partial count — add grim new detail to our picture of the role she allegedly played in his self-governing world, one whose borders were sketched, but not restricted to, the six of his houses she managed and oversaw and the private plane trips that ferried them between them all. Maxwell has historically denied all allegations made against her by Epstein's accusers, and she has never been arrested or criminally charged. Neither she nor her lawyers have commented publicly since Epstein's arrest on July 6.
In the documents, at least, she speaks: in her own words, as part of a videotaped deposition, and secondhand, as alleged by those who knew her and, in some cases, were victimized by her. These documents, selective and in some cases redacted, offer a tantalizing and frustrating glimpse at a woman insistent on her own innocence and imperious in her own defense. (Giuffre and Maxwell settled in 2017, but the Court of Appeals for the Second Circuit ordered the unsealing last month.) Asked for a specific detail about the woman who claims she was kept, essentially, as a captive and trafficked to rich and powerful men, Maxwell's answer is hauteur served cold: "I barely recall Virginia, period."
Giuffre, in her deposition, remembers Maxwell well. She had approached her, Giuffre said, at the Mar-a-Lago spa where she was working in the summer of 2000. Maxwell was looking for someone to give massages; Giuffre says she was reading a book on massage therapy. "I told her I'd have to ask my dad," she said she told Maxwell.
It was the first book on massage Giuffre said she had ever read, but Maxwell wasn't bothered. "She goes, 'That's okay. I know somebody. We can train you. We can get you educated. You know, we can help you along the way if you pass the interview. If the guy likes you, then, you know, it will work out for you. You'll travel. You'll make good money. You'll be educated, and you'll finally get accredited one day.'"
Maxwell, in her deposition, acknowledged that her job "included hiring many people." Epstein had six homes. She listed assistants, architects, decorators, cooks, cleaners, gardeners, pool people, pilots, "all sorts of people." "A very small part of my job was from time to time to find adult professional massage therapists for Jeffrey," she testified. "As far as I'm concerned, everyone who came to his house was an adult professional person."
Giuffre was 16, maybe 17. Sigrid McCawley, one of her lawyers, pointed out in her response to Maxwell's motion for summary judgment that Giuffre's own mother referred to Maxwell as her "new momma" when she went to live at Epstein's Palm Beach mansion.
The allegations of the newly unsealed depositions have widened the circle of suspicion around Epstein and cronies: Giuffre described being loaned out sexually to important men: known associates of Epstein's as well as many she couldn't name. ("Another prince that I don't know his name" — Prince Andrew, Queen Elizabeth's second son, has already been named in the press, and appears in these depositions as well, allegations that Buckingham Palace vigorously denies — "A guy that owns a hotel, a really large hotel chain … another foreign president, I can't remember his name. He was Spanish.") "My whole life revolved around just pleasing these men and keeping Ghislaine and Jeffrey happy," she said. "Ghislaine told me from her mouth to do these things." She also allegedly was personally involved in them. "It is your contention that Ghislaine Maxwell had sex with underage girls virtually every day when [you were] around her, correct?," she was asked. Her answer was simple: "Yes."
Testimony from other women echoes Giuffre's story. Johanna Sjoberg tells a similar story of being approached by Maxwell (in her case, on the campus of Palm Beach Atlantic College), brought in to work first as a kind of assistant ("She explained that she lived in Palm Beach and didn't want butlers because they're too stuffy"); then to rub feet; then, eventually, for massages. "Her job, as it related to me, was to find other girls that would perform massages for him and herself," Sjoberg said of Maxwell in her sworn deposition. At one point, Maxwell called the girls "her children." At another point, Sjoberg heard her refer to one particular girl as her "slave."
Nevertheless, Maxwell is staunch in her denials. And so, she-said-she-said. Tony Figueroa, a former bodyguard of Epstein's, testified that Giuffie had told him of threesomes she had with Maxwell and Epstein. "Have you ever participated at any time with Virginia in any kind of sexual contact, or sexual touching with Jeffrey and Virginia?" Maxwell was asked during a deposition. Maxwell: "I have not."
And so on and so on. Depositions from Epstein (he takes the Fifth, the constitutional right to refrain from answering if so doing may incriminate him), from his former assistant Sarah Kellen (her, too, the Fifth), from one of his pilots, a friend's former house manager, and several others. The pages multiply.
"I apologize sincerely for my banging at the table earlier," Maxwell said at one point during her deposition. "I hope you accept my apology. It's borne out of years of feeling the pressure of this entire lie that she has perpetrated from our first time and whilst I recognize that was — I hope you forgive me sincerely, because it was just the length of time that that terrible story has been told and retold and rehashed when I know it to be 100 percent false."
Judge Robert W. Sweet denied Maxwell's motion to dismiss (his summary judgment was also unsealed), but the case never went to trial; Maxwell and Giuffre settled. So for now, Maxwell remains a mysterious figure, absent as the fury around Epstein grows and more details emerge, most visible at the moment peeking through the paper trail, of composure and then its unraveling.