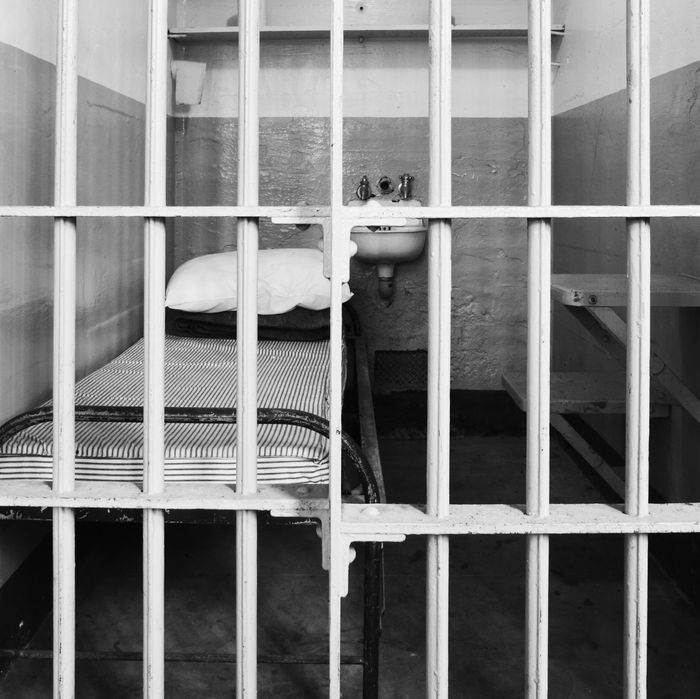 Photo: William Manning/Getty Images
After being ignored for hours, a woman gave birth in a Colorado jail cell completely alone, according to a recent lawsuit. Surveillance video footage of the incident, which occurred a little over a year ago, reportedly shows her writhing around on her small bed, covered in sweat, before giving birth to her son in the empty cell.
On Wednesday Diana Sanchez filed a lawsuit in the U.S. District Court in Colorado, the Washington Post reports. The suit states that on July 31, 2018, rather than "ensuring that Ms. Sanchez was able to give birth in a safe and sanitary setting," nurses and deputies "callously made her labor alone for hours," forcing her into a "horrific experience." The Denver Sheriff's Department said that the 26-year-old had been taken into custody two weeks before she gave birth on charges related to identity theft.
The lawsuit alleges that when Sanchez was booked, medical personnel noted that she was more than eight months pregnant. A little over two weeks later, according to the complaint, Sanchez told deputies and nurses that she was experiencing contractions "at least eight times that morning." Shortly afterward, she notified a deputy that she had abdominal pain and her water had broken. A nurse requested a van to take Sanchez to the hospital at this time, but jail officials were reportedly aware that their protocol for acquiring the van could take "multiple hours." According to the complaint, video footage shows that only once Sanchez's baby was born did a man wearing surgical gloves enter the cell, apparently to inspect the infant. More than 30 minutes after she gave birth, Sanchez was taken to a hospital.
Sanchez filed her lawsuit after an internal investigation conducted by the Denver Sheriff Department cleared all the jail deputies of wrongdoing. The suit names as defendants the city and county of Denver and Denver Health Medical Center, as well as six individuals. Sanchez's lawyer Mari Newman told the Post that the fruitless investigation is "emblematic of how broken the system really is … They claim to have done a review, and their conclusion is that nothing was wrong with the fact that a woman was never taken to the hospital and ended up giving birth in a dirty, cold, hard jail cell. It's really unfathomable."
A spokesperson for the sheriff's department told KDVR on Wednesday that deputies were following protocol, which has since been amended.
Sanchez recounted her awful experience to KDVR last year, telling the local news outlet, "The pain is indescribable and what hurts me more though is that fact that nobody cared." She went on, "They put my son's life at risk … when I got to the hospital, [the doctors] said that I could have bled to death."