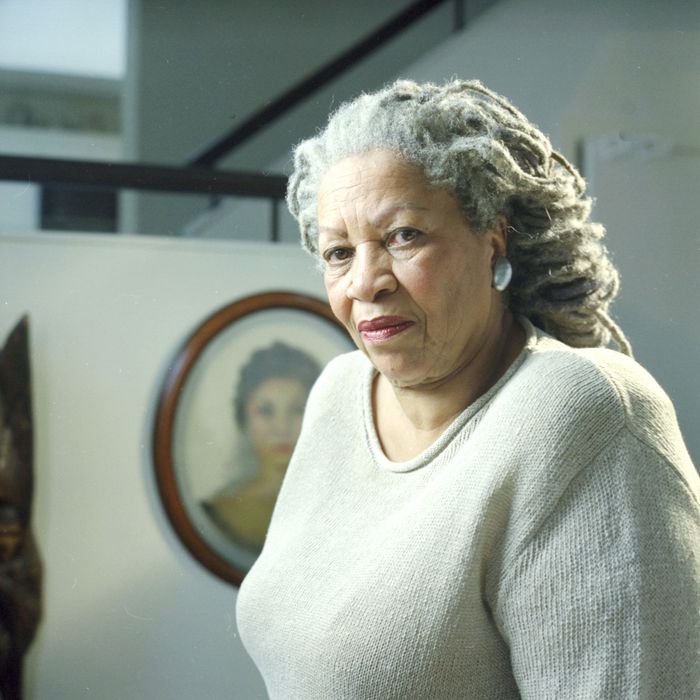 Toni Morrison.
Photo: Jean-Christian Bourcart/Getty Images
Unlike many of my colleagues, and a number of my friends, I did not have a personal relationship with Toni Morrison. She had become an emeritus faculty member by the time I arrived at Princeton, gliding in for occasional events in her honor. On those evenings, in the throng of people at various dinners and events, I always tried to be appropriately gracious without displaying how awestruck and giddy I was to be in her presence.
But I first saw her in the flesh when I was a high-school student. Two of my friends and I skipped afternoon classes and made our way to Harvard Yard to see her deliver the Massey Lectures in the History of American Civilization. Speaking in her sonorous and deliberate voice that rolled on two registers at once, a deep one and a reedy higher one, she stood before a packed auditorium. On those three days, Morrison spoke the words that would become her book, Playing in the Dark. It was like nothing we, or anyone, had ever heard — literary criticism that provided a genealogy of the Africanist presence in the canon we were being trained to know as prep-school students, a canon and a set of conventions turned inside out to tell the truth of how we Black people were everywhere despite the cloistered exclusions of Western knowledge. She took on Hemingway, Melville, and Hawthorne, managed them with grace, flourish, and a sly sense of humor. I want to be like that, I thought, in the bright gleam of her genius.
My friend Tracy asked Ms. Morrison to sign her copy of Sula.  We had been instructed before the program began that there would be no signatures, and so Ms. Morrison said with apology and tender eyes that she just couldn't. But it was more than enough that she looked directly at us. Directly.
Our teacher, Perdita Connolly, had had us read Sula in class the previous school year. And I, at least, had by then also attempted to read Beloved. But it would take two more readings to fully grasp the meaning of a haunting baby ghost and a family in present-exile from its own community until a spiritual rescue saved them. Sula was still my favorite then, my beacon. Sula was a woman to admire despite her community's censure, a model of freedom.
And I first met Claudia — the girl storyteller, Pecola's witness — in The Bluest Eye, even younger. The face of a pretty Black girl leapt off the cover in the now long-gone Reading International bookstore in Cambridge, Massachusetts. A pretty Black girl holding a white doll and looking elsewhere made me clutch the book, and then sit down, and read on the floor. As always, the pages were populated by people like me: Black, female, varying, truth-seeking, facing tragedy and seeking love, and loving.
It is not hyperbolic to call Toni Morrison the greatest figure in American letters. After all, she made the world pay rapt attention to the interior lives of Black women — ordinary, struggling Black women — to care about our imaginations and hearts. Anyone who could do that in this nation that was largely built on our defilement, and practices it ritually, is more than a genius, but also a saint. And a conjurer and seer.
Morrison was, of course, singular as a writer. She was also groundbreaking as an editor, bringing Black women's literature to renaissance recognition at Random House before she entered the realm herself. And she lived and grew within the communities that she shared: at Howard University, at Princeton. One of my favorite Morrison stories is of Stokely Carmichael's schoolboy awe at her brilliance and great physical beauty while he was a student at Howard. She stood in a tradition there. She was a student of the great poet and critic of Black folk life, Sterling Brown, and then a teacher in turn.
Her former students at Princeton will tell you of the acuity of her teaching, an attention to form as well as substance, her curiosity a contagion and then a stunning conflagration of midwifery. As with the community of writers, one gets a sense that notwithstanding how much larger than life she was, she always made abundant space for her students, ushering in their processes of becoming. She was, according to colleagues, someone with whom to build and imagine classes and institutions. And from my vantage point, sitting across from her at this dinner or that, gazing at her lacquered nails and elegant gestures, she was an intent listener. And a belly laugher. A genius who never stopped being a woman of the sort I'd always known. Once, she offered me a bite of rum cake at a dinner in New York before launching into a hilarious joke about action movies, and I about died from joy.
I must admit in the secret place, I always yearned for her blessing. Some words of encouragement or praise for my writing. It is a mock-worthy vanity given the reams she must have received from the most recognized writers in the world. It was a long time before I realized that I already had her blessing. In her years of making writers, of nurturing community, of teaching as well as writing, she sermonized: Teach your story and tell it, too. There is no one without the other. To riff on the great bard of Black letters, Paul Laurence Dunbar, she did a wondrous thing. She saw the writer black, and bid her sing.
Imani Perry is the Hughes-Rogers Professor of African American Studies at Princeton University. She is the author of six books, including the forthcoming Breathe: A Letter to My Sons (September 2019, Beacon Press).