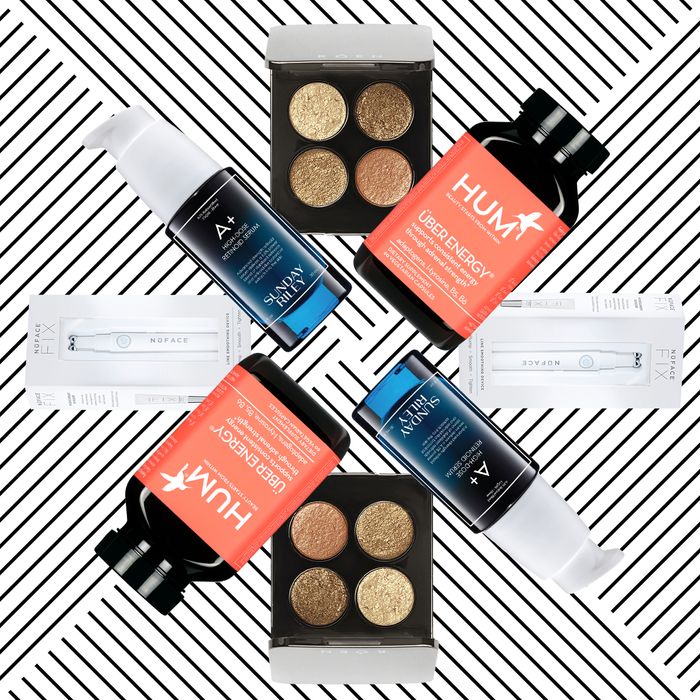 Photo: Courtesy of Saks Fifth Avenue
Now that it's vaguely autumnal outside, it's a good time to give your beauty cabinet a refresh. To guide you through the must-haves of the moment, we turned to Jade England McGraner, a beauty buyer for Saks Fifth Avenue, to share her top picks from the iconic retailer's Apothecary Shop. In addition to the latest products and trends, the Apothecary lineup offers plenty of wellness-y, feel-good finds, from SPFs to repair serums to scrunchies that won't tear your hair. Consider it back-to-school shopping, but beautiful.
Nikki DeRoest (celebrity makeup artist) might have designed the perfect eyeshadow palettes, according to McGraner. The innovative formula, which is not quite a cream and not quite a powder, was intentionally designed to be applied with your fingers and then touched up and blended with her Everything Eye Brush. "Bonus points for the clean and vegan formulas," McGraner adds.
This serum contains snail mucin. And yes, that's a great thing! McGraner describes the product as "the miracle serum that keeps on giving," and also touts its ingredient benefits. "Snail mucin is naturally abundant in nutrients like hyaluronic acid, glycoprotein enzymes, and copper peptides," she says, "so it can help stimulate collagen, help boost hydration, and help repair skin damage and scarring."
FYI, it's pronounced "All Use." But this duo is genius. Think of the Quick Clean as a step between dry shampoo and real shampoo. You put it on your scalp and rinse in the shower. Follow with the Juice Drench, a hydrating product that McGraner says is a "green juice for your ends….It smells like a dream and leaves your hair feeling like you had an in-salon hair mask treatment. We buy in bulk because we never want to run out."
Any clean-beauty fan will recognize Joanna Vargas's brand. She's been coined the "queen of the naturopathic facial." This sheet mask mimics her famous facials, and it's formulated with gentle exfoliating ingredients to help give you a glow — no highlighter needed.
Everyone loves Sunday Riley for its Good Genes Lactic Acid Treatment, but the brand's retinoid serum deserves high praise, too. This 6.5-percent solution of stabilized retinoid blends and extracts helps refresh the skin and helps support collagen production. The results: visually brighter, firmer-looking, noticeably even skin. McGraner's pro tip: Many people are sensitive to retinoids and should ease into this product once or twice a week, before building up to use every other night or every night as desired. Sunlight can also cause a reaction, so best to apply at night.
How often are you replacing your brushes? If you need new ones, these are sleek, black, and made with thousands of fibers to apply products seamlessly. "This set has exactly the right brushes for foundation, eye products, contouring, and even lips!" McGraner says.
McGraner calls this a "filler" for people who hate needles and the inconvenience of an in-office appointment! You can use this gel, formulated with several types of hyaluronic acid, to visually smooth fine lines and plump up cheeks and lips. Results last for 3 to 4 months, according to Fillerina.
Also in the vein of fine-line care, this NuFace pen uses microcurrents to help zap them and visually tighten the skin within 3 minutes. McGraner uses it for little lines around the eyes, lips, and forehead, "a.k.a. those caused by squinting at the computer screen all day." Great when you're running out the door or need to look better by tonight.
This is Supergoop!'s newest mineral formula, and McGraner calls it a game-changer. "It's great for anyone who tends to have more sensitive skin like me," she says. "Plus, it works beautifully under foundation — almost like a sunscreen and primer in one."
"As a working mom of two, sometimes you just need a little extra boost," notes McGraner. Let eight adaptogenic herbs give you a pick-me-up to get through a busy day. And they're vegan, non-GMO, soy free, gluten free, and nut free.
Take care of yourself from head-to-toe. While Patchology is known for its eye gels, the foot peel is great for exfoliating and softening your feet at home. McGraner likes the formula for its AHA + BHA botanical blend, featuring glycolic, salicylic, lactic, and citric acids to help exfoliate and soften the skin. Even better than a spa pedicure, dare we say?
Tata Harper made this "holy grail" cleanser without soaps, detergents, or alcohols. What's in it instead? Fresh enzymes, clays, and essential oils with microspherical beads to polish the skin. Apply to dry skin, and wash with warm water. It's invigorating, cleansing, and has an uplifting citrus scent.
"I'm officially onboard with the scrunchie come-back," admits McGraner. But seriously, these silk hair ties are so good. Aesthetically, they don't leave kinks or creases. They also don't damage your hair the way a typical elastic would.
This is paid content produced for an advertiser by New York Stories. The editorial staff of The Cut did not play a role in its creation.