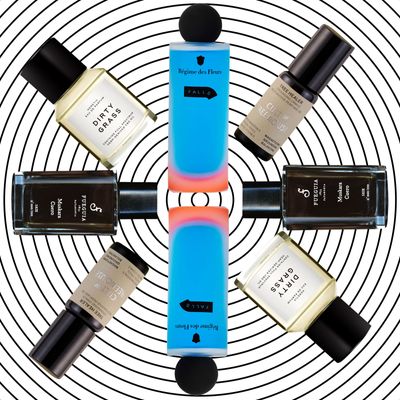 Photo: Courtesy of the Retailers
Admit it. Camping is often more satisfying as a memory than it is when you're actually doing it. In reality, camping often includes tents that won't stay up, campfires that won't light, and necessary cooking supplies left behind. But remember how excellent everything smelled? A number of fragrance brands have bottled that part of the experience. Summer might be over, but whether you managed to sleep under the stars or not, the scents below will keep its good memories alive — minus the DEET and the unidentified midnight rustling outside your tent.
The One That Smells Like a Walk in the Woods
Perfumer Mandy Aftel harnessed a number of fir notes in this beeswax and jojoba oil–based solid. I rub some of it on my wrists whenever I'm stressed and it transports me to a damp, mossy path surrounded by pine trees that soar to the sky.
The One That Smells Like the Desert
If your ideal camping trip is more Grand Canyon than Green Mountains, this rosewood, sagebrush, vetiver, and grass mix offers a mildly cowboy appeal without having to get in the saddle.
The One That Smells Like Someone Is Getting High in the Dunes
Some fans say they smell pot when they inhale this scent, which would be thanks to the hemp note. I mostly smell its other dominant note: vetiver, which contributes to the smoky, beachy vibe.
The One That Evokes Riverbanks Upstate
This Cold Spring, New York–based boutique first dipped into scent creation with candles a few years ago but liquefied them into wearable versions this fall. The blend of moss, tobacco leaves, and fire is missing one descriptor, IMHO, and that's "breezy." Something about it brings to mind a wide-open-spaces element, even though moss is usually found in shaded areas.
The One That Smells Like Wearing a Biker Jacket on a Hike
Upon first spritz, a very earthy, mossy balsam moment lands on your skin. Once it dries down, though, patchouli, incense, and atlas cedar take over and leave a seriously leathery element that sticks around.
The One That Smells Like a Glacier
Icelandic artist and perfume creator Andrea Maack says her warm, woodsy scent evokes "a family cabin hidden away in the Arctic tundra." Okay, technically, that isn't camping, but this blend of guaiac, cypriol, patchouli, and musk perfectly captures that last-embers-of-the-fire feel, which is the same whether it emanates from a fireplace in an Arctic cabin or a bonfire in a makeshift circle of rocks at a state park somewhere in the Catskills.
The One That Smells Like Camping in the Jungle
Imagine setting up camp near a stories-high waterfall somewhere in the rain forest and being lulled to sleep by its rushing, hypnotic sound and the verdant mist rising from it. Or if this feels a little unlikely, imagine dabbing some of this jungle-moss-scented fragrance on your body, then getting on the subway. Ahhh.
The One That Smells Like Barbecue
You know how a bonfire's smell can permeate your clothes and hair in seconds? If that grosses you out, you probably won't dig this fragrance. However, if you wish you could capture that scent in the bonfire-less confines of your home, you need this bottle. Several woods, including birch, oak, and an Argentine wood called quebracho, anchor this blend, whose strong smoky element is inspired by the South American grilling technique of asado. North Americans might detect hints of our own gastronomic delicacy, the Slim Jim. This is not a bad thing.
The One That Smells Like the Woods at Sunrise
Cardamom, cilantro, iris, and palo santo are in this scent, which was designed to alleviate stress. I mostly smell the palo santo, which reminds me of early mornings at camp when it's practically cold even in August.
The One With the Most Tree Oils
This nascent brand makes three products, each of which gives off excellent camping vibes (the face-and-neck serum is even called Campfire Glow). This roll-on is the standout, though. It promises to improve energy flow, dissolve unfriendly electromagnetic vibrations, and raise the good ones, which, okay sure, but it's also made from the resins of — count 'em — 17 tree oils and smells delicious.
The One That Will Make You Feel Like a Forest Maiden
Fig lends a slightly sweet elegance to the moss, cassis, jasmine, and vetiver in this scent. I imagine it being something one would wear to a wedding in the forest. Or if Snow White is your idol.
The One That Smells Like Totoro's Home
The Cut's Kathleen Hou wrote about this scent when it launched two years ago. It aims to transport the wearer into a damp Japanese forest with its blend of smoky vetiver, earthy frankincense, woody cypress, and smooth sandalwood.
The One That Smells More Like You're in a Nice Country House and the Window Happens to Be Open
Despite its name, this smells quite woodsy thanks to the oils of grand fir needle and juniper berry. But since it comes in the form of a light mist that's meant to be sprayed on body and face, it's not overpowering.
And the One for Indoor Kids
Despite its urban name, the fourth and final word is what matters most in this fiery scent. Perfumer Josh Meyer created it for a menswear line, but I think it's sexy on a woman. I've been wearing it for years because I love smelling like a fireplace maybe even more than I love smelling like a bonfire.
If you buy something through our links, New York may earn an affiliate commission.