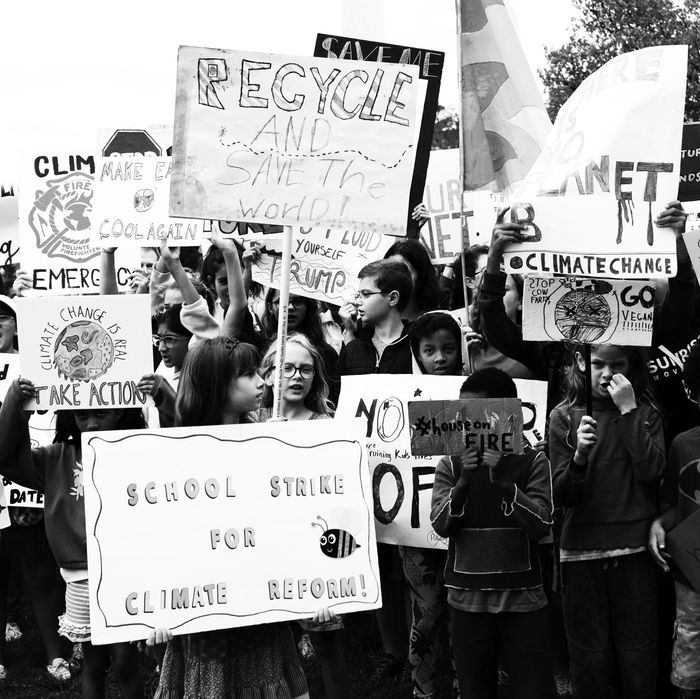 The 2018 Youth Climate Strike.
Photo: Sarah Silbiger/Getty Images
Today, ahead of the U.N. Climate Action Summit in New York, some of the world's fiercest climate activists — young people — are raising their collective voice to demand immediate action on the climate catastrophe.
No one understands the existential threat of climate change better than those who will have to live with its worst effects. The youth-led movement has quickly gained momentum; more than 1 million students across the world participated in the first-ever Youth Climate Strike, walking out of school to demand that adults take decisive action on the looming environmental crisis. On September 20, young people in more than 3,600 locations across the world are yet again coming together to demand that those in power fight for the communities most affected by climate change, work to protect biodiversity and indigenous lands, and pass the Green New Deal.
As Katie Eder, a 19-year-old executive director of one of the youth-led nonprofits organizing the strike, wrote in an op-ed on CNN, "We have no time to waste."
Below, here's everything to know about the 2019 Youth Climate Strike.
Who organized the Youth Climate Strike?
Eight national youth-led groups organized the event: Earth Uprising, International Youth Council, Youth Climate Strike, Extinction Rebellion, Future Coalition, Zero Hour, the Sunrise Movement, and Earth Guardians. (The movement is also supported by an "adult coalition.") With these groups' support, young people across the country are stepping up to lead their local demonstrations.
Where are these demonstrations occurring?
Young people in more than 150 countries have planned to strike, according to the Global Climate Strike's website. Per the U.S. event's official website, some of the biggest Stateside protests — which are planned in more than 1,000 locations across the country — will be in Boston, Chicago, Madison, New York City, Phoenix, and Seattle.
In New York City, students will walk out of class and meet at Foley Square by 12:30 p.m., and then march to Battery Park for another rally. There, Greta Thunberg, the face of the youth climate movement, will give a speech at 5 p.m.
To see strikes around the world, visit the Global Climate Strike's website.
How many young people are expected to participate?
USA Today reports that tens of thousands of students are expected to join in their local climate strike, but it's likely that number will be significantly higher. At the first Youth Climate Strike, for reference, more than 1.4 million young people around the world reportedly participated.
There's already been a massive turnout in countries with earlier time zones: In Australia, where some of the first strikes occurred on Friday morning, organizers estimate that 300,000 people joined a strike. Additionally, large protests have already occurred in Bangkok, Paris, Berlin, and Johannesburg.
Will children be penalized for skipping school?
That depends on where they live. On Monday, New York City became the first city to announce that public-school students could skip class — a decision that affects 1.1 million kids. "This completely changes things," one student told the New York Times.
Most students also aren't so lucky. In fact, New York City's first announcement inspired cities across the country to preemptively announce that students who skipped school to join their local protest would not be excused. Some such cities include Seattle and Philadelphia.
What are their demands?
National movement leaders have five main demands:
• Pass Congresswoman Alexandria Ocasio-Cortez and Senator Ed Markey's Green New Deal, which would transform the U.S. economy to fight inequality, as well as fight climate change (for example, it calls for 100 percent green renewable energy by 2030)
• Restore and protect biodiversity
• Respect indigenous peoples and lands
• Implement sustainable agriculture
• Pursue environmental justice by advocating for communities on the frontlines of poverty and pollution
Local organizers also have demands specific to their community. In Massachusetts, for example, leaders are calling on Governor Charlie Baker to declare a "climate emergency," and for the local government to pass policies that "prioritize workers and communities on the frontlines of poverty and pollution."
How can I support the youth climate movement?
The easiest way to support the strike would be to turn out for an event! (Yes, adults are encouraged to join in, but organizers are asking for adults to "step back" and listen to young people. That's one way you can be an "adult ally.") You could also monetarily support any of the eight national groups organizing the strike, or find ways to support environmental organizations in your community. Simply tweeting about the strike and the organizers' demands is encouraged, too. (Check out the social media kit here.)
Or, join in one of the many other climate-related demonstrations planned from the 20th through the 27th, as the strike is just the start of an entire week of global climate action.
"September 20 is only the beginning," reads the event's website. "We must carry this energy to the 2020 elections, and beyond to ensure real, bold action is taken to address the climate crises. This is history in the making, and it's time we take back the narrative to save our futures."
This post has been updated.