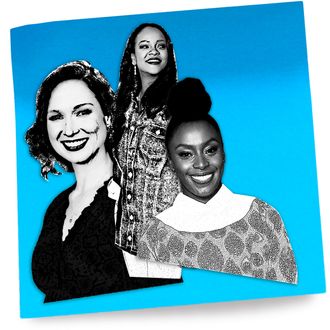 Ellie Kemper, Rihanna, and Chimamanda Ngozi Adichie.
Photo-Illustration: by Stevie Remsberg; Photos: Getty
Doing the Most is a special series about ambition — how we define it, harness it, and conquer it.
Getting the elusive big break in any industry might seem like a pipe dream — until it actually happens. Below, 25 famous women — including Lizzo, Representative Alexandria Ocasio-Cortez, Greta Gerwig, and more — describe the moments when that magical blend of hard work and happenstance took their careers to the next level.
1. Rihanna
On auditioning for Jay-Z at Def Jam: "That's when I really got nervous. I was like: 'Oh God, he's right there, I can't look, I can't look, I can't look!' I remember being extremely quiet. I was very shy. I was cold the entire time. I had butterflies. I'm sitting across from Jay-Z. Like, Jay-Z. I was star-struck. The audition definitely went well. They [Def Jam] locked me into the office — till 3 a.m. And Jay-Z said, 'There's only two ways out. Out the door after you sign this deal. Or through this window' … And we were on the 29th floor. Very flattering." —The Guardian, August 2007
2. Charlize Theron
On getting her first manager: "I was trying to cash my last check from a modeling job in New York, but because it was an out-of-state check, the bank wouldn't accept it — and I really needed the money. So I began pleading with this teller to help me … If I didn't cash that check, I wouldn't have had a place to sleep that night. I said to the teller, "You don't understand — please!" I was begging and pleading, and a gentleman came over and tried to help … What I didn't know is that I was auditioning for a guy who would end up being my manager. On the way out, the man who'd helped gave me his card. [He was John Crosby, who represented John Hurt and Rene Russo.] He said, 'If you're interested, I'll represent you.'" —Oprah, November 2005
3. Julia Child
On her first cooking show, The French Chef: "The first one was in February, 1963 [and it] took off right away … We all ate what we cooked and just had a good time … At the very beginning, we were on a shoestring. I think I got $50 per show and we had two cameras. We didn't stop at all, and if something fell on the floor, it had to stay there." —Larry King Live, December 2000
4. Awkwafina
On getting cast in Ocean's 8: "I remember when the call came in, when the offer was made … that was one of the happiest days of my whole life. It was a euphoria that I couldn't understand. I was completely alone. I was in the Beverly Hilton getting ready to win an award at the Kore Asian Media gala. And my mind was blown, dude. I don't know how to even describe it. A joy that's overwhelming. I don't understand how my life came to be." —BuzzFeed, May 2018
5. Donna Tartt
On her first hit novel, The Secret History: "I was shocked [by the reaction]. I still am shocked. I really am still puzzled by it … It's just very confusing. You know, you work towards something for a number of years and you think you're going to know what to expect. I thought it would be published, a couple of my friends would read it … It's not the fastest thing I ever wrote, but it's the best thing I ever wrote the fastest. Eight years' work, and this really was the end, and I'd thought about these characters for so long, and things that I had never seen before started clicking into place." —Bomb magazine, October 1992
6. Christina Tosi
On creating her dessert phenomenon, Cereal Milk: "I needed an easy dessert, and a panna cotta is easy to make and easy to serve, but very few people do it with a point of view. I had never had or seen a panna cotta that was a really interesting flavor. I didn't realize cereal milk [the flavor] was going to be good until I fed it to Dave [Chang]. His eyes just sort of opened and he was like, 'Holy shit!' It became such a hit at [Momofuku] Ko that when we were opening Milk Bar, he said, 'You have to make this into a milk, into an ice cream, people are going to go crazy for this.' That was a huge career-changer for me." —First We Feast, October 2012
7. Lizzo
On her song "Truth Hurts" appearing in the Netflix film Someone Great: "Who would have thunk? What a moment in a movie can do for an artist is crazy. I had everything else: the hard work, the good music, touring — but then there's that extra-special magic that nobody really knows what it is that can really change your life. Now the song that made me want to quit is the song that everyone's falling in love with me for, which is such a testament to journeys: Your darkest day turns into your brightest triumph." —People, July 2019
8. Greta Gerwig
On getting cast in Greenberg: "I have just gotten the role of Florence Marr in Noah Baumbach's new film Greenberg … acting opposite Ben Stiller … This is my actual Big Break. Or that's what my mom keeps saying. I have done films before, some of them make me proud. I'm not completely green. 'But, Greta: it's BEN STILLER,' she says. It's strange that Big Breaks still exist. I think my mom thinks that I'm in There's Something About Mary 2 … I touch the script in my purse. I cannot believe that I have this part." —the Daily Beast, March 2010
9. Billie Eilish
On her first hit song: "Before we put out 'Ocean Eyes,' we'd put out two songs — one that [my brother] Finneas wrote and one that I wrote. Just to put them out on SoundCloud for fun and for our friends to listen to. We had no intention for them. And then we put out 'Ocean Eyes.' It kind of just started getting traction. I would hit refresh and it would have a bunch of new plays. We were like, 'What the hell is going on?' I was at Starbucks one time, and Finneas called, like, 'Dude! Our song got 1,000 plays. We made it.' We were just so over the moon about it getting 1,000 plays. We were like, that's it. We've reached our goal. We thought we were bosses. And then it just kept going. And then Hillydilly found it … I didn't realize how big it was getting until it had reached 50,000 plays. I haven't really processed it. It's just hard because it doesn't happen to everyone, and it's rare." —Vogue, August 2016
10. Chimamanda Ngozi Adichie
On her first book deal: "I was completely unknown. I wrote short stories, got many rejections and then finally got an acceptance. I wrote a large and terrible novel that I sent out and that was rejected multiple times. And then I wrote Purple Hibiscus and a nice agent said she would 'take a chance on me.'" —The Guardian, August 2016
11. Alexandria Ocasio-Cortez
On being nominated for office: "I was nominated at first by a group called Justice Democrats … They were looking for people with a history of community service and my name had come across their desk, and they called. I had actually just gotten off of camp at Standing Rock. I was there with the Lakota Sioux and all of the Native peoples that were really standing up to protect the water supply in the Midwestern United States. That experience was very personally important and transformative, and I kind of left feeling like I had to do more, and I didn't know what that was. When I got that call, I just felt like, 'OK, the universe is telling me something, so I'm going to listen' … Nobody's ever supposed to win their first bid for office. Nobody's ever supposed to win without taking lobbyists' money, no one's ever supposed to defeat an incumbent, no one's ever supposed to run a grassroots campaign without running any ads on television. We did all of those things." —Elle, July 2018
12. Betty White
On her first talk-show gig: "My big break came when a local disc jockey, Al Jarvis, in Los Angeles invited me to be his Girl Friday on his talk show 'Hollywood On Television' — so would I be his Girl Friday? Sure, Friday, that's great. Well, what he meant and I didn't realize was Friday, Saturday, Monday, Tuesday, Wednesday, Thursday. Five-and-a-half hours a day, six days a week live — whatever happened, you had to handle it. There was never any rehearsal or script or anything. Whoever came in that door, it was on, and you were interviewing them." —NPR, November 2014
13. Nancy Dubuc, CEO of VICE
On working her way up the ladder: "When you reach success, there's this leap that people make that, 'Oh. You just got here,' and they forget the 20 years — the 15 years of [when] I was a post-production supervisor. I was a PA. I was an AP. I was a director of programming. I was 85 other jobs before I got here … You start by getting coffee." —Fearless Podcast, April 2019
14. Cardi B
On getting cast on Love & Hip Hop: "Yo, it's so crazy, like, them motherfuckers [the producers] really doubted me. It's like, why would y'all doubt me? Like, I have seven hundred thousand bajillion followers [on Instagram]. I'm telling them like, 'Yo, I have a brand. I'm not even a[n] artist and I fill out clubs. Three thousand, whatever the crap, I fill them shits out!' But they didn't care about that. They just wanted to make me look as the stripper, a struggling stripper." —The Fader, February 2016
15. Julia Louis-Dreyfus
On joining Saturday Night Live when she was 21: "I did not adapt well. I was pretty miserable. It was a very difficult time of my life — it really was. I went into that place green as green could be. I mean, I came out of a theater background, improv background, that was very ensemble-y and we're doing this together and we're in it together, which is great. But that's not necessarily the culture at SNL when I was there at all. It was very dog-eat-dog … I didn't know how to work the system at all. Plus, there were a lot of drugs, and I didn't realize everyone was on drugs … so I was a little bit naïve. But, it was sort of like grad school in a way. I really learned a lot about the business in that period of time and I met Larry David. Larry was there my third year. He never got a sketch on the air. We sort of became friends because we both sort of identified with each others' misery. So that was a lucky thing!" —Entertainment Weekly SiriusXM, September 2013
16. Sara Blakely
On founding Spanx: "I said, OK, I want to invent or create a product that I can sell that's my own and not somebody else's, and I want it to be something I can sell to millions of people. And I want it to be something that makes people feel good. I wrote that specifically in my journal, and I just kept looking for when it was going to show up in my life. I was on high alert. The day I cut the feet out of my pantyhose, I immediately started pursuing it … I quit my day job selling fax machines on Oct. 14, 2000, and Oprah called two weeks later. I was on her show in November. I'd been working full time while I was working on [Spanx] at night and on weekends. I didn't want to quit my job. I needed the income and the security and the insurance and the health benefits and all that. So I literally waited. I did not leave my job until I'd already landed Neiman Marcus and Saks Fifth Avenue. That was when I got the courage to make the leap and go on my own." —Success, January 2015
17. Tara Westover
On the success of her memoir, Educated: "I remember thinking when I was writing this that the book would really do well for little girls who worked in junk yards and never went to school. For everybody else, it would be a bit inaccessible … It came in on the New York Times best-seller list at No. 1, so right away it was doing well. But you still don't know. That could be a blip. You think that it can't sustain … The book has sold better than I could ever have expected. Honestly I don't think I've processed it. I can't even tell you. In a year, maybe I could tell you. I'm super-confused by it myself." —Parade, February 2019
18. Zendaya Coleman
On her first big TV role: "My dad took a sabbatical from his job as a PE teacher to help me with my career, and we started commuting to Los Angeles for castings and auditions. We were driving back and forth from my home in Oakland to L.A. every week. It was six-hour drives all the time. They would call us at 4 p.m. and say they needed me by 9 a.m. the next day so we would pack our bags and just go … It was tough. But after a year it really paid off when I got the role of Rocky in Shake It Up at the age of 13. That was my big break." —Fun Kids, 2011
19. Zadie Smith
On her first novel, White Teeth: "Why would anyone assume that a 500-page novel about Willesden Green would sell? It's the ongoing shock of my life. In one way, I'm incredibly grateful. The money meant — and has meant — that I can write as I like. I can write a book of essays, or I can write books that are somewhat strange. My publishers are patient with me … To me [now] it's a book by a different person, and it's not to my taste. But I will say, now that I've grown, I can look back and think, Okay, it's okay for a 22-year-old. It is what it is. It's full of flaws but I think fondly of that 22-year-old who wrote it. Whereas before she filled me with total horror." —Interview, August 2012
20. Ellie Kemper
On getting cast in The Office: "I could not believe it! The odds of booking a role on any show, anywhere, are so small — and this was a show that I happened to worship. I felt like dancing, but instead I ordered a BLT pizza from Pizzeria Mozza, extra bacon." —My Squirrel Days, October 2018
21. Mary Barra
On her first job at General Motors, where she is now chairwoman and CEO: "My first experience [working at a GM assembly plant during college] was perhaps the most significant — and what I would consider my big break. I started as a quality inspector on the assembly line at Pontiac Motor Division. It was terrific because I learned how cars were built and how important every step of the assembly process was to make a great car." —LinkedIn, September 2016
22. Issa Rae
On getting discovered by Hannibal Buress online: "I remember during [the] third or fourth episode of our series 'Awkward Black Girl,' I got a tweet from Hannibal Buress. He said, 'Hey, I really like your stuff. My manager manages Donald Glover and other people. Do you want me to put you in touch?' And I was like 'Yes!'" —the Wrap, July 2016
23. Gayle King
On her first on-air job: "I went to the University of Maryland, and I was working at a camera store that was next to the TV station, and these muckety-mucks would come in from the TV station … One of them turned out to be a news director. And he said, 'You know, you have such a nice way about you, and a really nice voice. Have you ever thought about TV news?' [I said,] 'No, actually I haven't.' [And he said,] 'Well, we have an entry-level position, might you be interested?' And my response was, 'Do I have to work weekends?' … So I got this job in the newsroom." —Sooo Many White Guys, April 2018
24. Alicia Keys
On signing her first record deal: "My manager put together these showcases so that the heads of various labels could hear me play. They were all interested, so we had a bidding war. Columbia brought me in to play in this gorgeous building that looks out over Manhattan. I was on, like, the 579th floor with this white piano. The whole room was white and glass, and I'd never seen anything like it. I was like 'Wow.' So I played my little songs and everyone was excited. I was in heaven. Then the exec cleared everybody out and said to me, 'If you sign with us, I'll give you this piano.' All I had at home was my broken-down room divider. He might as well have been offering me diamonds." —Oprah, September 2004
25. Alli Webb
On founding Drybar: "I stayed home for five years with my kids before I started to get an itch to enter the workplace again. I missed talking to adults and I thought it would be a good way to get out of the house, socialize and have a nice side business. Because I had spent years blow-drying hair, I decided to start a mobile blowout business called Straight-At-Home. It was really that simple when I got started … I posted information on a mommy blog that basically said, "Hey, I'm opening up a business, we specialize in blow-drying hair and are thinking about charging $35 or $40. Would anybody be interested?" I got flooded with emails from women all over town who loved the idea. At the time it was less about the money and more about getting out of the house. I got so busy so fast! I would stay at these womens' homes after I blew out their hair for another half hour just chatting. It was fulfilling for me at the time, however, I got so busy that I ended up at a crossroad: bring more people on to fill the demand or open a physical location." —Career Contessa, October 2013