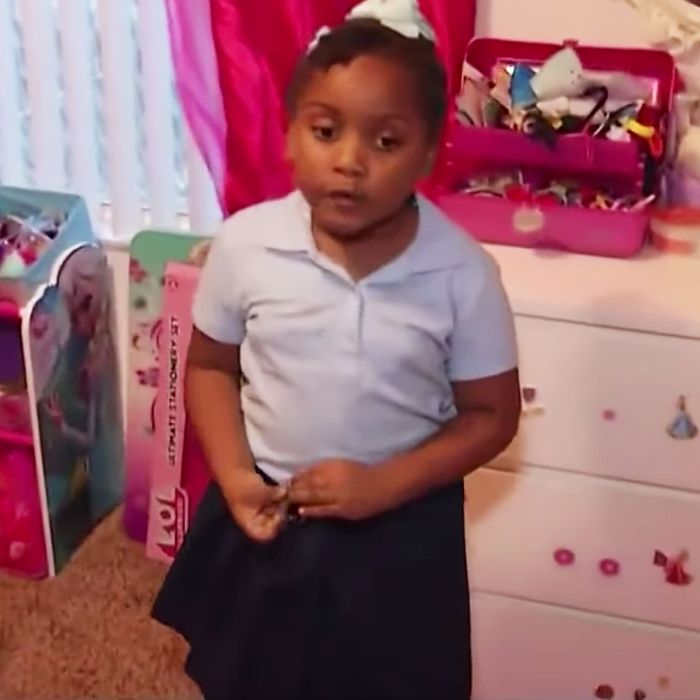 Kaia Rolle.
Photo: 10News WTSP/Youtube
When a staffer at an Orlando school grabbed the wrists of 6-year-old girl, the young student's first impulse was to kick back — a panicked reaction familiar to many parents. According to WKMG, the girl was arrested for battery and sent to a juvenile prison.
Last Thursday, Dennis Turner, the school resource officer at Lucious and Emma Nixon Academy, arrested a 6-year-old child, on a charge of misdemeanor battery after she had a tantrum at school. She was then handcuffed and transported to the Juvenile Assessment Center, according to her grandmother Meralyn Kirkland.
In an interview with the New York Times, Kirkland said she received a call after the incident, and that Turner told her on the phone that Rolle had acted out in class and landed herself in the office, where she tried to kick a school staffer who was holding onto her wrists. Upon learning these details, Kirkland told Turner that Rolle suffers from sleep apnea, and hadn't gotten enough sleep the night before. But at this information, Turner reportedly became combative.
"Well, I have sleep apnea, and I don't behave like that," Turner said to Kirkland, she told WKMG. (Neither the school, district officials, nor Turner responded to the Washington Post's request for comment.)
In an interview with WKMG on Friday, Kirkland was still in shock. "How do you do that to a 6-year-old child, and because she kicked somebody?" she asked, holding back tears. Rolle, who sat alongside her grandmother during the appearance, said, "I felt sad that my grandma was sad, and I really missed her."
Soon after Kirkland spoke out about her granddaughter's arrest, Turner's troubling record of disciplinary action came under official investigation by the Orlando Police Department. According to officials, Turner arrested an additional child — who was 8 — the same day of Rolle's arrest; in both cases, Turner did not get approval from his watch commander, which is a breach of department policy. Furthermore, while working as a police officer he was issued a written reprimand for Tasering a nonresistant man five times, according to the Orlando Sentinel. On the evening of September 24, Orlando police chief Orlando Rolón announced that Turner had been fired from his position as resource officer; an investigation into his actions, however, is still underway.
Rolle's arrest has also sparked conversation around the disproportionate punishment that students of color face, as well as the potentially harmful influence of in-school officers. As noted by the Washington Post, more and more schools have hired these officers in recent years to protect against mass shootings and other serious threats, but criminal-justice advocates says they instead end up criminalizing behavior that doesn't necessitate it.
"No 6-year-old child should be able to tell somebody that they had handcuffs on them and they were riding in the back of a police car and taken to a juvenile center to be fingerprinted, mug shot," Kirkland said.