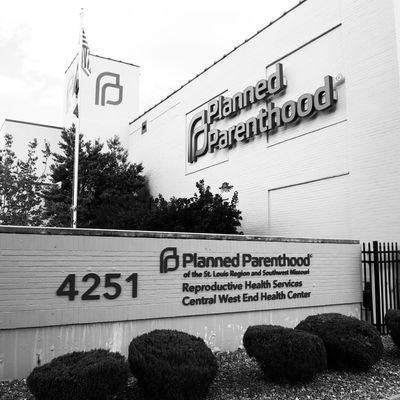 Photo: Saul Loeb/AFP/Getty Images
A new study published on Wednesday by the Guttmacher Institute, a think tank that supports reproductive rights and abortion access, found that in 2017, the abortion rate in the United States was the lowest it's been since Roe v. Wade made abortion legal in 1973.
According to the report, the number of abortions in the United States fell by 19 percent in six years, from 1,058,000 abortions in 2011 to 862,000 abortions in 2017. This drop, researchers suggest, was due in part to people's increased access to contraception, which led to a decline in births and pregnancies overall.
The study focuses mainly on abortion rates between 2014 and 2017, and does not include data from 2018 or 2019, when several states, including Missouri, Alabama, and Mississippi, passed legislation severely restricting abortion access. (Currently, these laws are all being held up in court.) Still, the authors note that 32 states passed a total of 394 new abortion restrictions from 2011 to 2017, most of which went into effect, and these restrictions did not appear to contribute to the falling abortion rates.
In other words, the draconian legislation pushed by anti-abortion activists does not reduce the number of abortions. What it does do is force women to jump through cruel, arbitrary, and often expensive hoops to access health and abortion care. As a new study by the National Bureau of Economic Research found, mandatory waiting periods for abortion — a popular restriction — can cost a woman nearly $1,000.
"Our new findings indicate first and foremost that abortion is a common reproductive health experience in the United States," Dr. Herminia Palacio, Guttmacher's president and CEO said in a statement. "Abortion restrictions — whether or not they lead to fewer abortions — are coercive and cruel by design, and intended to impose a heavy emotional and financial toll on anyone seeking an abortion."
"Lowering the abortion rate is not the goal," she added. "Policy should focus on supporting patients' health and rights, regardless of how it affects the abortion rate."