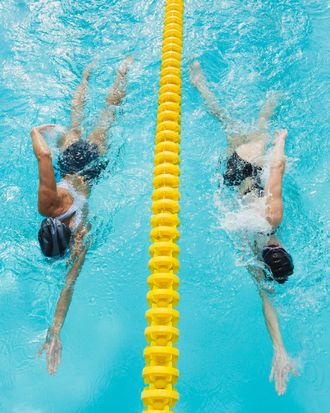 Photo: Erik Isakson/Getty Images/Tetra images RF
A school district in Anchorage, Alaska, has decided to reverse a decision to penalize a teen swimmer for her bathing suit, after a controversial move to strip the student of a win last week because an official ruled her suit "exposed too much of her buttocks," per the Washington Post.
Competitive swimmer Brecklynn Willis, 17, won a race in a meet for Dimand High School last Friday, but emerged from the water to discover that the victory wouldn't count for her or her team. An official had deemed her swimsuit not in compliance with national high-school standards that male swimmers cover their buttocks, and female swimmers cover their buttocks and breasts. Another official working at the event told local news that a female referee told her Willis's suit "was so far up I could see butt cheek touching butt cheek.''
The decision made waves in the community not only because male swimmers are rarely ever scrutinized for their suits, but because Willis is a mixed-race athlete in a predominantly white sport, and was the only swimmer singled out on a team of young women wearing identical suits.
"All of these girls are all wearing suits that are cut the same way," Lauren Langford, a swimming coach in the area who worked with Willis when she was younger told the Post. "And the only girl who gets disqualified is a mixed-race girl with rounder, curvier features." She said that "suit wedgies" are common with competitive swimsuits for women, which are cut high, and that the idea that the teen was "hiking her suit up on purpose," as implied by the initial ruling, is ludicrous and offensive.
This isn't the first time Willis has been singled out for her body. Last year, a parent "took a photo of her backside and shared it with other parents to demonstrate that girls on the team were wearing inappropriate swimwear." And Willis's mother told local news that at a meet with her younger daughter, also a swimmer, the same referee "openly critiqued her suit's fit during a meet." She has also "been told by other parents that her three daughters on the team, who are all talented swimmers, need to cover up for the sake of their sons," she said.
The state board that decided to return Willis her win said she "was targeted based solely on how a standard, school-issued uniform happened to fit the shape of her body," and that the referee's decision was "heavy-handed and unnecessary." Before they announced their intent to overturn the referee's call, Langford said Willis had been "crushed" by "the fact that she's been told she's intentionally trying to draw this sexual attention."