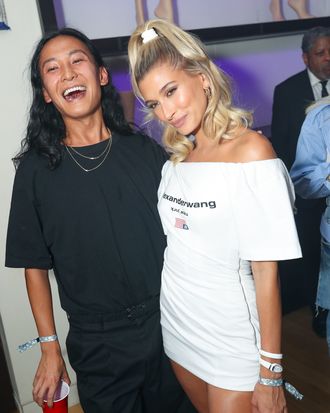 Photo: David X Prutting/BFA.com/David X Prutting/BFA.com
In New York City, real estate is never empty for long. Even if it's a shuttered warehouse or an abandoned office building, if it has four walls and a roof (or really just a floor), someone will throw a party there, or maybe a fashion show. The irony, of course, is that many of today's empty spaces were once used to sell clothes.
On Saturday night, Alexander Wang took over the old Henri Bendel department store on Fifth Avenue to celebrate his recent collaboration with Bulgari on a line of Serpenti handbags. He's moved up in the world since 2009, when he was hosting afterparties at gas stations. But retail has had an inverse trajectory; there was nothing left on the shelves for guests to abscond with this time.
"I wanted to do a department store that comes to life after dark," Wang told the Cut while sipping from a red Solo cup, adding that he was inspired by the '80s fantasy film Mannequin, starring Kim Cattrall. He was surrounded by plastic women as well as their flesh-and-blood competition: Hailey Bieber, who starred in the Bulgari campaign; Tiffany Haddish; and Dua Lipa. With keys to the kingdom, Wang turned the space's former fine-jewelry bar into an actual bar, the makeup counter into an ice-cream sundae parlor, and the shoe salon into a diamond-encrusted manicure station. So the feeling was less department store and more fashion carnival, but such is the retail "experience" these days.
A few seasons ago, Wang decided to ditch the official New York Fashion Week calendar. He prides himself on being a step ahead of the pack. "We're sustainable!" he said, with a laugh, on the subject of repurposing the space.
Before closing shop, guests were treated to performances from Normani and Rick Ross. Wang himself is a fan: "In the morning, I'm like, 'Hey, Siri, can you play 'Motivation?'"