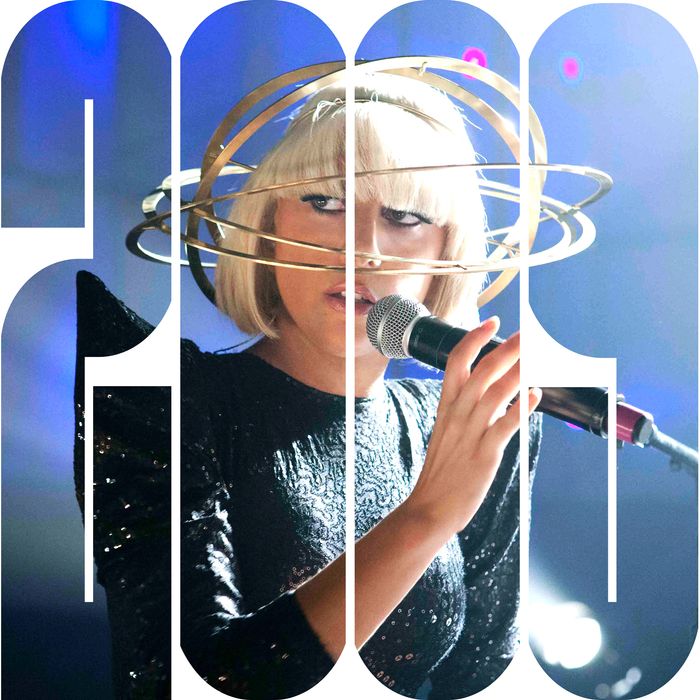 Photo-Illustration: by Stevie Remsberg; Photo: Getty
In 2009, I was in my second year as a blogger for the Cut. I wrote about everything Lady Gaga did. I covered The September Issue with such enthusiasm that I was eventually quoted on the DVD box. Bloggers like Bryanboy were happening, and most fashion people were feeling rather uncomfortable about it, and I couldn't stop writing about the clash of old and new media.
I was keeping a journal throughout this whole ridiculous experience … but I sure as hell won't be publishing it. Instead, here's a lightly fictionalized diary of one very strange year.
October 1, 2008
Today, I saw the future, and it is dangerous shoes. In 2009, if designers have their way, we will all risk injury for the sake of fashion. Runway models have already fallen in too-high heels at Rodarte, Prada, and Pucci's spring 2009 shows — others almost fell at Dolce & Gabbana, BCBG, and Peter Som.
Since I cannot afford any of these shoes, this will not be my problem.
January 28, 2009
The September Issue, a documentary about Vogue's 2007 September issue, premiered at Sundance and now all of Vogue's secrets are out.
The secrets include that Anna Wintour and her team had some issues with cover girl Sienna Miller's physical features, including her hair ("unruly") and teeth ("too many fillings"). The final cover was a composite of her head from one photo and her body from another. This is sort of common, no? Just like photoshopping away armpit creases and lower-belly shadows? The general public should know these things go on, so it's good that the film brings them to light, albeit bad for Vogue to become the symbol of this sort of thing.
I cannot wait to see this movie to fully understand the ways in which the Vogue team would find me, a blogger dressing and grooming on a blogger's salary, an absolute goblin.
May 13, 2009
Lady Gaga wore an "orbit" hat on Ellen the other day. It looked like she had a solar system without any planets around her face. But of course she did, because she is the sun around which we all revolve.
March 18, 2009
Today I read on Perez Hilton that Lady Gaga allegedly gets stopped by the police when she's out in public because she likes to wear underpants instead of pants pants. This sounds made-up but she's fashion's most important person right now so everyone should probably obsess over it anyway.
May 19, 2009
Well, apparently that store Oak is trying to make "spants" happen. Spants are a skirt and pants together in one piece of clothing. I do wonder if this will catch. Jeggings did. Maybe that trend wasn't rock bottom.
July 9, 2009
Lady Gaga continues to be incredibly important every time she breathes or wears a thing. Today I found a video of a press conference she did wearing a mask that covered her entire face, which she called "a contemporary art piece." It's also a great contemporary "I'm not wearing makeup today, k thanks bye fu" piece.
July 21, 2009
Lady Gaga went on TV in France wearing a coat made of flaccid Kermits. I am both very here for this and also the appropriate amount of disturbed.
August 31, 2009
Fashion media probably won't stand the test of time, if recent newsstand numbers are any indication. It's time to face the uncomfortable truth that the Cut might need to become a reality show. Like The City or Stylista or Running With Heels or Project Runway.
I am prepared to sacrifice my position for the cause, and become a character who has to complete impossible challenges, like de-wrinkling a silk top faster than eight other people, in order to win a Chipotle gift card and a one-day internship where I will have to de-wrinkle yet another silk top.
September 15, 2009
I went to the Park Avenue Hotel this morning to watch Snuggie's very first fashion show. I couldn't pass up the opportunity to witness both dogs and humans modeling the "sexiest looks in blanket-wear." Also, I was sick of having to stake out Amber Rose and her boyfriend Kanye West at every show, and I correctly surmised that they would not attend. Their loss.
Only a handful of people were there, which was great because I got to sit front row. Never mind that there was only one row. One dog model got tired mid-walk and plopped down on the runway, which was actually perfect, because the Snuggie is an item of clothing for people who can't be bothered to move.
Later that day I caught Joan Rivers at the Dennis Basso show. She said the Snuggie is a knockoff of the Slanket. "I would wear a Slanket anywhere. I think it's great, because it leaves your ass exposed," she said. "So you can get to the bathroom fast, which at my age is a plus."
October 5, 2009
Phoebe Philo presented her first runway collection for Céline, and now everyone remembers what clothes for grownups look like. "I wanted to clean it up, refocus, and present a strong, powerful woman," Philo said of the collection. Every runway look included actual bottoms — skirts, shorts, even flowy pants. But notably, nary a spant in sight.
November 10, 2009
Lady Gaga wears sunglasses made of razor blades in the "Bad Romance" video. The September Issue is behind us but I do believe I will be writing about her for the rest of my life.
November 19, 2009
Last night, the Victoria's Secret Fashion Show taped in New York, featuring numbers by the Black Eyed Peas and Kings of Leon, two musical artists that will surely be just as popular even ten years from now.
I went backstage in the middle of the day to interview the models. It takes nearly the entire day to prepare them for the two total minutes of runway walking they do in the show. Which makes you wonder: If these remarkably gorgeous specimens of humankind need this many hours to get made up to model underwear, what would it take for the average person? Ten years of kale juice?
Backstage, Victoria's Secret has two buffets laid out — one for food and a more popular one for hair extensions. Seems healthy.
November 30, 2009
The sons and daughters of the landed gentry have just gathered for the Crillon Ball in Paris. I was surprised to see that the 17-year-old personal style blogger Jane Aldridge, who posts photos of her fashion choices on the site Sea of Shoes, also attended, upon the recommendation of Vogue.
Aldridge has already been quite successful. So successful that she's designed two lines for Urban Outfitters and appeared on the greatest show of all time, The City. It makes you think, doesn't it? What if her schtick — wear things, take photos, post them to the internet — is the future of fashion? Could we one day live in a world where this very activity rules our lives and dictates the media consumption patterns of fashion enthusiasts?
Ha! Yeah right. Personal style bloggers will rule the world, sneakers will become the height of fashion, and New Yorkers will refuse to drink any milk that is not made of oats. Sounds about right.
Amy Odell is the author of Tales From the Back Row, a more robust account of covering fashion for the Cut.