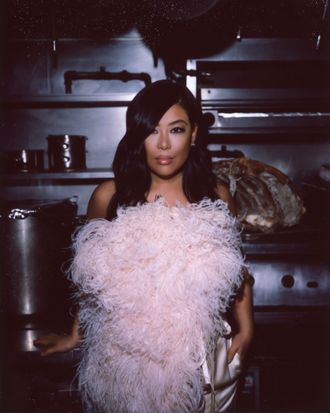 Angie Mar's life revolves around meat. She even swears her secret to good skin is all the collagen in beef. Mar is the chef and owner of the Beatrice Inn, and the author of Butcher + Beast, her first cookbook, out today. But Mar is no Martha Stewart — her cookbook is sexy and stylish (she wears Oscar de la Renta on the cover). I'm a vegetarian who can barely walk through the meat section of a grocery store without getting icked out, but I am oddly compelled by the photos of raw, dry-aged steak that accompany her recipes. She spoke to the Cut about beef as a thank-you present, martinis, and what to drink when you're in love.
How do you thank someone for a gift? There are two things I always love giving as a thank you: Champagne and beef. I love to give someone something that they can enjoy later, and a steak, a bottle, and beautiful handwritten note with a recipe is always chic.
What would you never wear? 
Denim and the color purple.
What's your dream vacation?
I always say I am very French at heart, so whether I have a spare 36 hours or a full month, you'll often find me running off to Paris or St. Barts for a holiday.
What's a good book on your coffee table right now?
Helmut Newton: Polaroids, and of course, the first copy of my upcoming book, Butcher & Beast.
Last show you binge-watched?
Peaky Blinders and Versailles — I've always loved a period piece.
Secret to hosting a good party?
An array of Champagne and martinis, and food that can be eaten with your hands — not hors d'oeuvres or anything silly and prissy. I mean whole lobsters and oysters on the half shell, beef bones and fried chicken, all served on a table for everyone to enjoy. I always love a party that gets a bit messy — everyone's inhibitions are lost, and that is when the fun truly begins.
What is a trend that you like right now?
Being unfiltered.
One you don't understand? 
Veganism.
Favorite museum/gallery?
Petit Palais in Paris and The Met in New York.
Shoes you wear most often?
Black Chanel combat boots, Adidas Stan Smiths, or the highest heels possible.
What is your favorite space in your studio/office/home? 
This is my favorite table at the Beatrice Inn, table 26. Some of my best memories, dinners with friends and family, and creations have happened at this table. I love to sit here when we are closed and work; it's just very comfortable to me.
What's your favorite…?
Pajamas?
Josie Natori silk pajamas or my favorite worn-in white tee.
Candle?
BYREDO, Fleur Fantome.
Scent?
I don't wear perfume because I am in the kitchen most of the time. But I love the smell of peonies and English roses, sage, and vanilla.
Drink?
When I am in love and when I am not in love: Champagne
When I am creating a menu: Dirty martini, three olives
When I am with my girlfriends: Brenne Whiskey
When I am finishing a great meal: Vintage Madeira
Socks? 
My very warm, pink hunting socks when I'm at home. And hosiery that's 15 denier when I'm out.
T-shirt?
I am actually more of a hoodie or sweatshirt girl. Autum Studios made me these amazing hoodies with Johnny Miller's artwork from my book — truly what I want to live in this fall.
Can you share three Instagrams or photos of yourself that define your style? And a brief explanation of why? 
My style tends to vary from night to night depending on my mood and where I am going. I love blending the notions of femininity and masculinity, both when I create dishes and when I curate my wardrobe. Menswear inspired pieces like tuxedos and very feminine silhouettes like body-con dresses are in constant rotation, and I always love a good fur.
Shop the Story
Available in sizes XS–XL.
If you buy something through our links, New York may earn an affiliate commission.