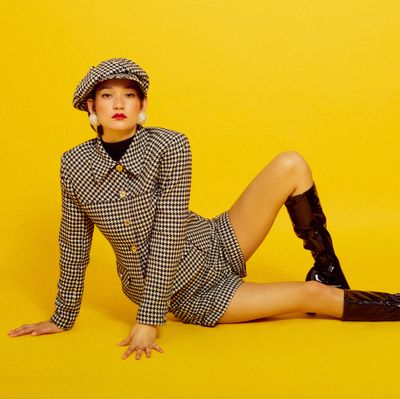 Photo: Ignacio Torres/Courtesy of Opening Ceremony
To be a consumer of fashion today means to look forward and backward simultaneously, with one label after another reviving past collections. Marc Jacobs did it with his "redux grunge" capsule last year. Versace did a "tribute collection" on the 20th anniversary of Gianni's death. And today, Anna Sui announced that she is working with Opening Ceremony to bring back some of her best-selling styles to coincide with her retrospective at the Museum of Art and Design, which opens September 12.
The capsule is broken down into five themes, which correspond to the exhibit as well: Americana, Mod, Punk, Victorian, and Surfer. "I think I'm a product of a typical middle-class suburban upbringing," said Sui of her obsession with pop culture, movies, and music. She would go on to dress everyone from '90s supermodels to grunge musicians like Courtney Love.
"Growing up in California, Anna Sui was an amazing figure in the cultural scene," says Opening Ceremony co-founder Humberto Leon, who now considers Sui a close friend. She was also the first Asian person working in fashion he'd ever heard of. He remembers visiting New York in 1999, and going straight to the Anna Sui Soho store to buy one of the designer's signature "baby tees," which have been reissued as part of the capsule. Leon also still has the original.
For Sui, the experience of going through her archives has been illuminating.
"'New' comes in many forms, not just the unexpected, 'never seen it before,'" she says. "Sometimes what we considered wrong becomes right. Looking at the selection at Opening Ceremony, people will find that so much of our culture is still fixated on the past. Maybe it's our comfort zone, a retreat from the harsh reality of what today is. But there is also the satisfaction of finding what we missed out on the first time around!"
Below, photos from the limited-edition capsule collection, which is available exclusively at O.C. New York, O.C. Ace, and OpeningCeremony.com.