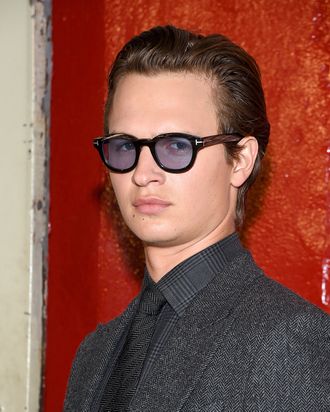 Photo: Jamie McCarthy/Getty Images
Ansel Elgort, subway smells fan, man of a thousand thirst traps, recently gave a strange interview with The Times, in which he talked about his desire for more…love.
When asked what he'd want to accomplish by his 30th birthday, the 25-year-old actor replied that, along with acting in a few plays and performing music, he's also like to "find a lot more love." It doesn't sound too strange at first — I mean, we could all use a little more love in this dark and depressing world — until you take into consideration that Elgort has been dating his high school girlfriend, ballerina Violetta Komyshan, for the past seven years. However, Elgort seems to mean it in a platonic way:
"It doesn't need to be sexual. I could be done sexually with my girlfriend. I think we've been pretty clear that I want to feel free to fall in love with people and that [option] should be open, but sexually it can be closed off."
Elgort used his affection for his guy friends as an example: "I'm in love with a bunch of my male friends who I'm not interested in having sex with, so why can't I put the desire to have sex with women aside and let myself have love with women?"
He then talked about his relationship with Shailene Woodley, his co-star from The Fault In Our Stars and The Divergent movies. "I love Shailene Woodley and we never had anything sexual and that was great," Elgort said. "There will probably be some sort of chemical thing at some point that you can't help, but you just have to be disciplined and not be a f******. We're primitive beings." Either this is a long-winded and confusing way of saying he just wants more friends, or Elgort has some particular ideas about being in an open relationship (???).
He also commented on that infamous series of shirtless thirst trap photos he posted back in May. "I was hanging out and somehow — and this is almost embarrassing to admit — I just did a photoshoot with myself. I took a bunch of photos of myself and decided to post them because it was honest. I'm obsessed with the idea of not wearing a mask," he said. Good for you, Ansel Elgort, good for you.