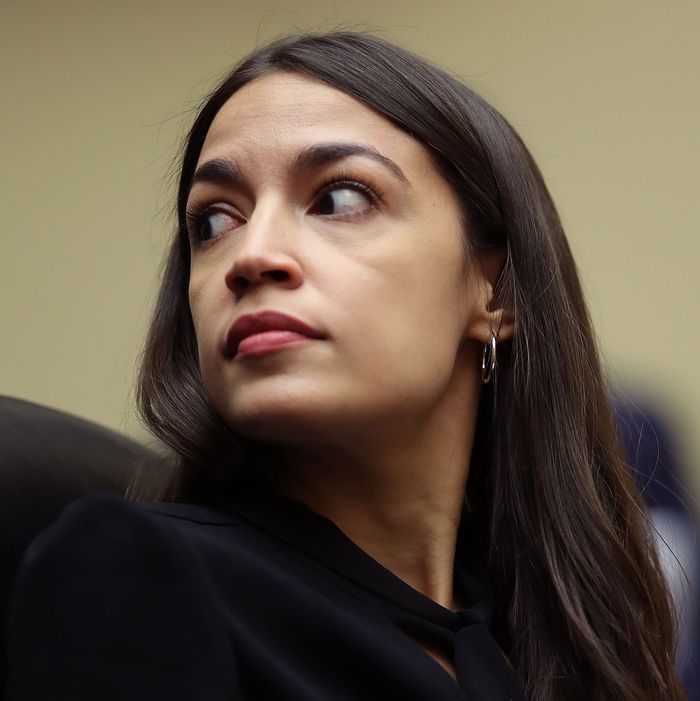 Photo: Win McNamee/Getty Images
Midway through Thursday night's Democratic debate on ABC, the channel aired a startling ad from a Republican political action committee. The ad, purchased by the New Faces PAC, starts out with a with a still of Alexandria Ocasio-Cortez's official congressional portrait — then sets it on fire:
The next scene shows a heap of skulls, and then cuts to Elizabeth Heng, a failed Republican candidate for California's 16th congressional district. In ominous tones, Heng, the daughter of a Cambodian dissident, recalls the violence of the Khmer Rouge regime and warns against socialism in the U.S. The implication is clear: Ocasio-Cortez, a democratic socialist, represents a real and serious threat to the U.S., and if she and other leftists grow their power, mass murder is inevitable.
It's a uniquely odious example of an old conservative habit. But that habit isn't merely obnoxious — it puts the congresswoman at risk, too. Ocasio-Cortez, along with other members of her left-leaning congressional "squad," already receives a high number of death threats; by allowing this PAC to air an ad that links her to genocidal violence in Cambodia, ABC grants undeserved legitimacy to ideas that make her a target.
Further complicating matters, the Freedom From Religion Foundation — a legal advocacy group that promotes separation of church and state — claims the channel rejected two of its proposed ads for the same night. And later in its broadcast, ABC aired an ad funded by NumbersUSA, an anti-immigration organization. Political Research Associations has reported that the group's president, Roy Beck, once spoke to a white nationalist group and formerly was associated with The Social Contract, a journal that puts out what the Southern Poverty Law Center has called "race-baiting articles penned by white nationalists."
On Twitter, Ocasio-Cortez has already responded, noting the irony of a Republican PAC doing outreach to minorities by smearing a woman of color:
Others expressed shock at the ad, and ABC's decision to run it:
The PAC's ad was ostensibly meant to counter the argument that the GOP is a racist political party. But they'll need to do more than put Elizabeth Heng in front of camera to make that argument. If they're truly concerned about the party's image, they haven't exactly done their cause any favors.