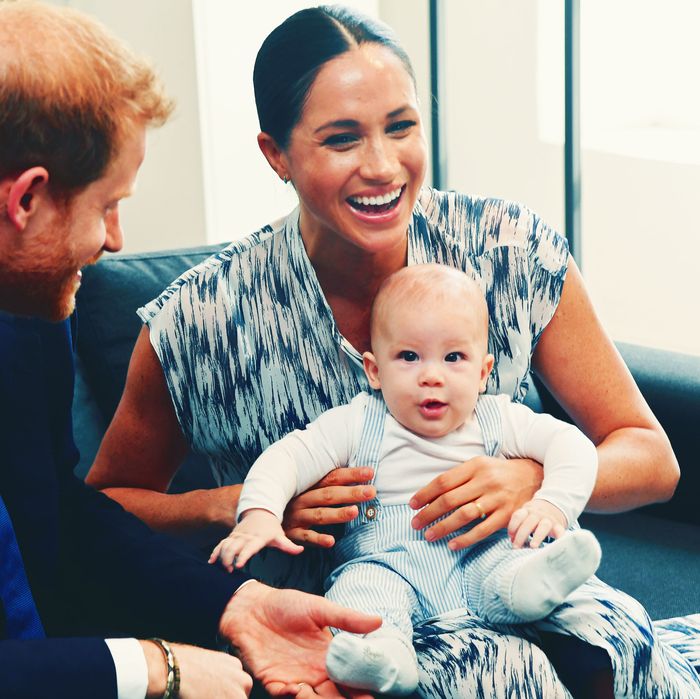 Baby Archie.
Photo: TOBY MELVILLE/WireImage
After just a mere four months on this planet, baby Archie is already on his first royal tour — an opportunity that, well, none of us will ever experience. And, though he has not yet commented on trip, precisely because he cannot talk, the young double Taurus appears to be having the time of his short life.
While Archie had to stay behind with his his mysterious nanny during the first two days of Meghan Markle and Prince Harry's ten-day tour of Africa, on Wednesday, the little babe eventually got to join in on the fun. In what was his first public appearance on tour, Archie took a trip with mom and dad to meet Archbishop Desmond Tutu, where he swiftly became the center of attention.
Some of the visit, I'm assuming, was uncomfortable for Archie; his dad called him an "old soul" and his mom revealed him to be "a flirt," in front of a Nobel Peace Prize–winner. (Humiliating!!!!) But in nearly every photo and video to surface of Archie during his rare appearance, he bears a li'l smile and inquisitive eyes. Undoubtedly, he's reveling in his royal-tour life.
Look at those blue-and-white-striped H&M overalls! (Archie must be putting in effort to wear affordable clothing on tour, just like his mom.)
And here he is meeting Tutu and his wife, Leah.
Listen to his baby talk!
He even got a forehead kiss.
My only wish for Archie's next tour appearance is that he sports some historic denim.