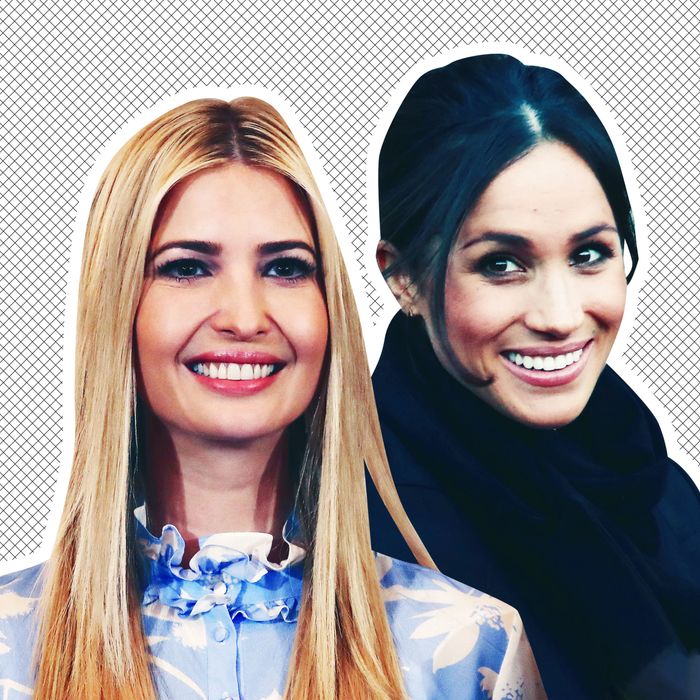 Ivanka Trump and Meghan Markle.
Photo: Getty Images
I've long believed that a carelessly crafted guest list can ruin a wedding, which is why I have my concerns about fashion designer Misha Nonoo and entrepreneur Michael Hess's upcoming ceremony in Rome on Friday. Some people who have already landed in the Eternal City, like Meghan Markle and Prince Harry, are sure to be A-plus attendees. But some unconfirmed guests have me worried: notably, Ivanka Trump and Jared Kushner.
It makes sense that Meghan would be present at Nonoo's wedding; the two have been close for quite a few years, and it's suspected that Nonoo had a hand in introducing Meghan to her royal beau. But it would be slightly more surprising if Nonoo and Hess invited Ivanka, as was reported by Hello! magazine. Per a cursory Google search, the affianced don't appear to be tight friends with Javanka; however, Jared's brother Joshua, who is expected to attend the wedding with Karlie Kloss, has been pals with Hess since their Harvard days.
If Ivanka does show up, I imagine that'll be a little awkward for the Duchess of Sussex. Though Meghan interviewed Ivanka in 2014 for her now-permanently defunct blog The Tig and described the First Daughter as "savvy" and "intelligent," they haven't exactly been close since. Remember when Ivanka publicly congratulated the royals on their engagement and then didn't get an invite to the wedding? Or that time Ivanka's father called Meghan "nasty"? Wow … memories.
One can only hope that Hello! got the guest list wrong and that the Duke and Duchess of Sussex won't be forced to do the Cha Cha Slide alongside Javanka. But Katy Perry and Orlando Bloom, who are also rumored to be on the list, better be at the wedding — we're looking forward to the chaotic energy they'll bring.