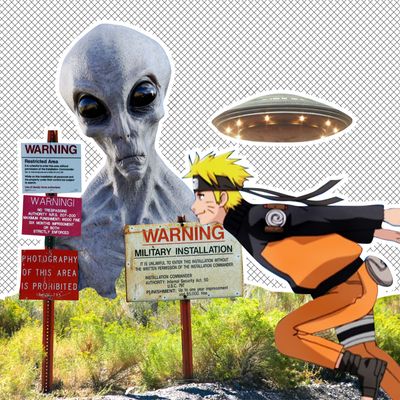 It's all happening.
Photo: Getty Images, Hulu
Big day today: Across the country, agitated swarms of concerned citizens have assembled to force the government's hand on issues of immediate importance. To be clear: I'm not talking about the Global Climate Strike, although given the urgency of the goal there — hammer the must-act-yesterday nature of the climate crisis into diplomats' brains ahead of the United Nations Climate Action Summit — I can see where you might think that. No, I'm talking about a strange happening unfolding in Nevada, where hundreds of extraterrestrial enthusiasts have descended upon a mysterious desert military base.
Yes, friends, it's finally time to "see them aliens." The big Area 51 raid is happening now, and it looks every bit as unhinged as we ever could have hoped.
Area 51 raid? Sorry, huh?
Back in June, a California Man named Matty Roberts made what he thought would be a hilarious joke: a Facebook event inviting any and all interested parties to "storm Area 51" on September 20, because "they can't stop all of us" from barging in if we "Naruto run" as a unit.
"They," in that equation, seemed to refer to the United States Air Force, which uses Area 51 as a base; "all of us" would appear to mean anyone who clicked attending, a digital army that quickly ballooned to roughly 2 million people. This was, as you might imagine, a more enthusiastic response than Roberts anticipated. "I waited for like three days and there were like 40 people and then it just completely took off out of nowhere," Roberts told CNN affiliate KLAS-TV in July. "I was just like, the FBI's going to show up at my house, and it got a little spooky from there."
Obviously, though, the only way a large group of humans stands a chance of gaining entry into a government stronghold as shadowy as Area 51 is by ambushing it in giant screaming hordes. Realizing, perhaps, that some people might actually be willing to do this (the truth has been withheld from us for so long!), the Air Force issued a stern reminder to potential participants that "any attempt to illegally access military installations or military training areas is dangerous."
Why Area 51, though?
Because if you believe the rumors-slash-conspiracy-theories, Area 51 is where the government conducts tests on the bodies of dead aliens and on their wrecked flying machines. The government has classically gone out of its way to keep Area 51 off the public's radar, which naturally only makes people more curious about what goes on in there.
Got it. So did people actually show up?
Oh hell yes, although not millions of them. CBS estimates turnout to be somewhere in the "hundreds," basically a lot of people doing this:
The itinerary changed after Roberts realized his joke had taken on a life of its own. Instead of storming the base, the crowds would peaceably assemble for a music festival called "Alienstock" in nearby Rachel, Nevada, a tiny town with a single motel.
Roberts planned to put on the event with the help of his original co-host, Brock Daily, and a woman named Connie West. According to the New York Times, however, Roberts and Daily abandoned ship over concerns that Alienstock would turn out to be "FYREFEST 2.0," and directed their followers to a Bud Light-sponsored event in Las Vegas instead. Still another gathering — Storm Area 51 Basecamp in nearby Hiko, Nevada — beckoned believers to two days of alien talks, starting today.
The Las Vegas event happened yesterday (see below), but Alienstock and Storm Area 51 Basecamp are ongoing.
Early this morning, about 100 people reportedly gathered at the gates of Area 51, drawing law enforcement to the scene. Based on on-the-ground footage posted to Twitter, this cohort was small but jazzed: One person blasted "The Final Countdown," an Arrested Development-famous tune by the band Europe, from a boombox. Meanwhile, a few amped dudes chanted "clap them cheeks," apparently a reference to aliens' preferred methods of human testing: the anal probe.
"There's all kinds of all kinds," a motel worker in Rachel told the New York Times.
Despite the obvious enthusiasm, some attendees reportedly wished the crowd had been bigger. "I'm a little disappointed because it's a lot less people than they said online," Nathan Brown, of Oregon, told the Law Vegas Review-Journal. "I don't think I'll be back [to the area]. This was kind of the thing."
Did anyone do a Naruto run, as per the plan?
You bet!
Has anyone made it into Area 51 so far?
According to CBS, the local sheriff's office has detained two people, but whether or not they actually made it past the gates is presently unknown: "It wasn't immediately clear if a woman who began ducking under the gate and a man who urinated nearby were arrested after the crowd gathered about 3 a.m."
About a week before the shit-show actually got underway, however, two Dutch vloggers managed to stroll a full three miles into Area 51 before the law caught up with them. Presumably their brains have since been wiped and their extraterrestrial memories replaced with dust.
Did any aliens show up?
Difficult to say, with so many people wandering around in alien garb. But, you know, the aliens are always watching!