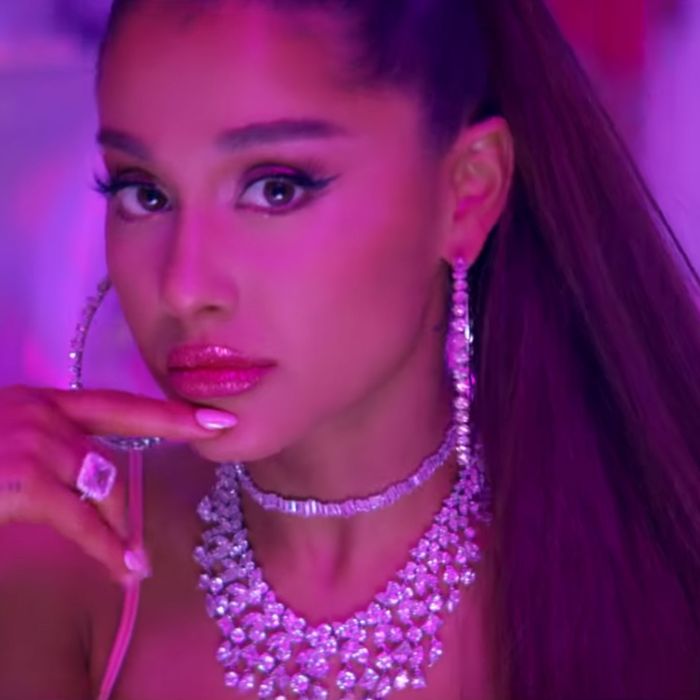 Photo: Ariana Grande/Youtube
It sucks to be kicked while you're down, but perhaps a small consolation that it's Ariana Grande who's doing the kicking? Fast-fashion giant Forever 21, which is reportedly considering filing for bankruptcy in the face of flagging sales, is now being sued by the pop star for at least $10 million over allegedly using her likeness without permission.
The New York Times reports that a lawsuit filed in Los Angeles's Federal District Court on Monday claims certain Forever 21 ads posted to the retail chain's Instagram bear a resemblance to Grande's "7 rings" music video (the one with the purple-lightning scheme, jewel-encrusted cat ears, and lip gloss). Court papers say a caption accompanying one of the posts is a riff on a lyric from "7 Rings" ("Gee thanks, just bought it") and that, in addition to similar styling, the ad employed a "look-alike model," complete with Grande's signature high ponytail. The lawsuit contends that "the resemblance is uncanny and Forever 21's intent was clear: to suggest to the viewing public that Ms. Grande endorsed Forever 21, its products, and was affiliated with Forever 21." All this to sell a bizarre headband that looks like two fuzzy pink breasts sporting nipple jewelry.
Forever 21 also allegedly posted images directly from Grande's "Thank U, Next" music video (and, speaking of there being no new ideas, that music video is basically a restaging of popular romantic comedies like Legally Blonde). According to the lawsuit, Forever 21 agreed under pressure from Grande's lawyers to remove the unauthorized images in February but displayed them on social media until mid-April nonetheless. Forever 21 also allegedly tried to partner with Grande, who ultimately refused over what she considered to be inadequate compensation, per the Times:
After Grande released the hit song "Thank U, Next" last November, Forever 21 reached out to her representatives to suggest an endorsement deal that would be centered on social media, the lawsuit said. Grande's representatives considered the deal but ultimately declined because the fashion retailer wasn't willing to pay Grande enough.
The lawsuit alleges that the damages aren't unreasonable since a single Grande Instagram post is worth "well into the six figures." I don't mean to get all Illuminati about this shit, but the figure Grande has requested in fact has seven rings.