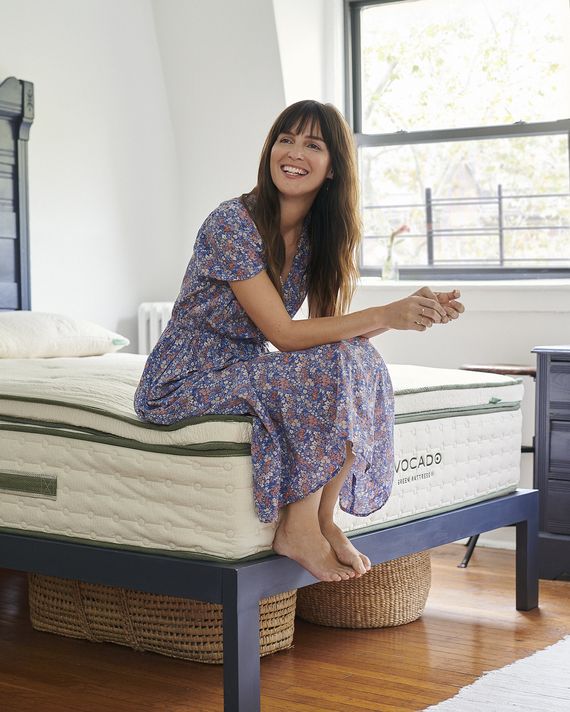 Erin Boyle of Reading My Tea Leaves prioritizes wellness in nearly every aspect of her life, including what she sleeps on:
an Avocado Green Mattress.
Photo: Kyle Dorosz
Erin Boyle is all about slow, sustainable living. She's made a career of it with her blog Reading My Tea Leaves, which gives readers a picture-perfect look at her minimalist life in Brooklyn Heights. Real life, of course, is a bit less frameable. Boyle lives in a one-bedroom apartment with her husband, 5-year-old daughter, and 2-year-old son. While the tiny space makes family time easy, there are fewer opportunities for moments of solitude — something Boyle relied on to stay sane, healthy, and productive long before she became a parent. To adapt to her evolving life, Boyle has learned to approach wellness more holistically, weaving it into nearly every aspect of her life. Look closely, and you'll see her version of minimalist living is all about maximizing impact.
You're known for your minimalist style. How does that carry over into your wellness routine?
Both are about getting back to basics. I'm less interested in the latest superfood than I am in a simple life that gives me time to slow down, drink a cup of tea, take the long way home, or walk to the farmers market to get something fresh for dinner. I don't mean to romanticize it. Life with young kids can often feel anything but simple, and the reason I'm able to carve out this time is largely because of how my husband and I have structured our partnership. Ultimately, wellness for me is balancing work, play, and rest, and having a supportive partner who shares equally in child-rearing is what makes this time possible.
What are your self-care non-negotiables? 
I need what I think of as "restorative alone time." Working at my computer all day doesn't count, even if I'm technically by myself. It's not even about yoga or meditation as much as it's embracing ordinary moments that allow for quiet introspection or breathing room: getting off a subway stop early and walking through the park on my way home, browsing through a bookshop or my favorite stationery store and ogling paper clips, or getting an ice-cream cone to eat all by myself. (Don't tell my kids.)
Sleep, however, is the most helpful, but it's also the most elusive. Some amount of sleep deprivation is inevitable for parents of young kids, but I failed to see how it affected my overall wellness until I was truly running on empty. Now, I try really hard to prioritize it.
How do you prioritize sleep?
Besides just making sure I have enough time for it, it helps to really love your bed. We just got a queen-size Avocado Green Mattress with the added pillow-top. It's extremely comfortable and supportive, and it also feels luxurious. The brand puts a lot of care into choosing materials, which I appreciate. It feels great physically, but it's also a comfort to know that I'm sleeping on something non-toxic that's made from renewable, organic materials and free of polyester, polyurethane, and fire retardants.
How do you carry this shopping philosophy into smaller, more everyday purchases?
I strive for simplicity. When I can help it, I like to buy things without lots of moving parts and packaging, and I try to make recipes that don't have mile-long ingredient lists. The fewer, more honest components, the better for me. Three days a week, year-round, there's a farmers market just a few blocks away where I buy fresh produce. And two local markets have robust bulk sections for stocking up on healthy staples, minus the packaging. When it comes to beauty and skin products, I love ordering bulk bar soap from a local soapmaker and getting a handwritten note in the package. Even when a maker is more far-flung, I'm so grateful to the internet for the access that it can give us to folks who aren't our real-life neighbors. For me, there's so much wellness to be found in good community and connecting with people.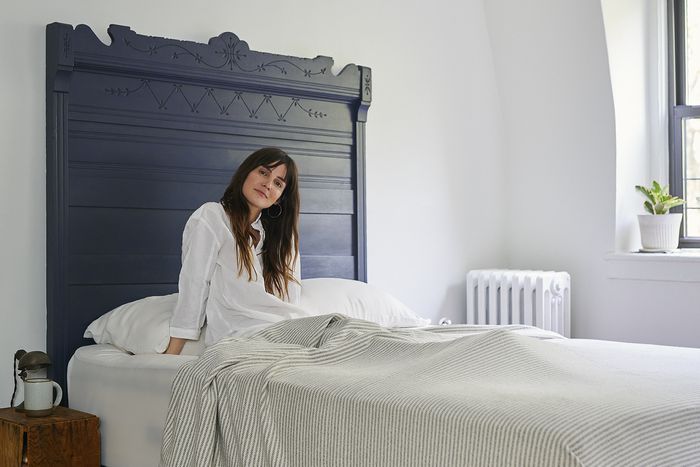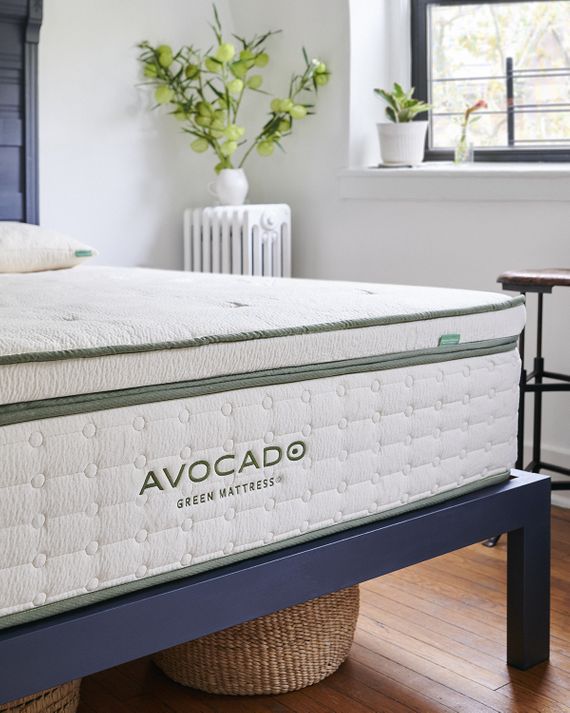 For people who want to live more sustainably, what are some easy to start?
If folks are able to, supporting and rallying around companies making products that are sustainable, ethical, and environmentally responsible is a really great thing to do. In my own life, it's meant having a more thoughtful relationship to the things I surround myself with. But focusing only on the stuff we buy can not only feel overwhelming, it can also help stratify the environmental movement into those who can afford certain products and those who can't. I'm trying to shift my own sustainability focus to simple habit changes that are easily accessible: taking public transportation, limiting unnecessary energy consumption in our home, reducing food waste, participating in sharing and circular economies, and fixing what we own instead of buying new. For many people, these are relatively easy shifts that are (bonus!) often economizing.
This is paid content produced for an advertiser by New York Stories. The editorial staff of The Cut did not play a role in its creation.